Michael Sheen: Lily Displeased by Role in New Moon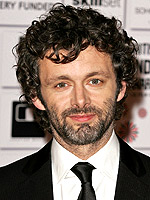 Big Pictures/Bauer Griffin
Landing the role of Aro in the upcoming film New Moon was quite a coup for actor Michael Sheen. Although his daughter Lily Mo, 10 ½, is a fan of the Twilight book/film series her reaction caught dad by surprise, however. "She was a bit overwhelmed," Michael tells PARADE. "It was like when I was a kid — if there was something I was really into, the last thing I wanted was my mom and dad to be into it as well."
So angered was Lily, she cried — and actually kicked her father — but there are no hard feelings between the two now. Michael adds,
"I think it was just like her fantasy imaginative world suddenly colliding with reality. She did punish me a bit. When she kicked me, I think that was sort of acting out her frustration."
Lily's own film career is off to a fast start in Everybody's Fine, costarring film legend Robert De Niro — a role that has Michael himself green with envy. "I totally admired him growing up, and he was a large part of what made me want to be a film actor," the 40-year-old Frost/Nixon star shares. Recalls Michael,
"So I said to Lily, 'What did you call him? Did you call him like, Bobby or Mr. De Niro?' And she went, 'No, I called him Sir.' So I said, 'Right. And from now on you shall call me Sir…'"
Lily is Michael's only child with ex-girlfriend Kate Beckinsale.
New Moon hits theaters Nov. 20; Everybody's Fine — in which Kate also appears — is in theaters Dec. 4.
Source: PARADE
– Missy