USA Softball's Jessica Mendoza: Home Run Bump
Hitting newsstands today is ESPN The Magazine's inaugural 'Body Issue,' which honors athletes of various shapes, sizes, genders, races and — it would appear– stages of pregnancy! USA Softball star Jessica Mendoza, a gold medalist in the 2004 Olympic Games, posed alongside her teammates this summer while 8 ½-months pregnant with her first child.
"The bodies in this issue vary from super buff, to lean, to stocky … all exemplifying beauty in their own way," the 28-year-old outfielder notes. "I was proud to be in this issue at a unique time of my life." Jessica adds,
"I felt that by showing athletes in every shape and form, including those of us who have children and continue to play, ESPN The Magazine is trying to break those stereotypes."
Her athletic background almost certainly came in handy just a few weeks later, when she delivered son Caleb Ashton Mendoza-Burks — after 41 hours of labor! Baby boy arrived at 6:51 p.m. on Wednesday, Aug. 12, weighing in at 6 lbs., 8 oz. and measuring 21 inches in length. He is the first child for Jessica and her husband, Adam Burks.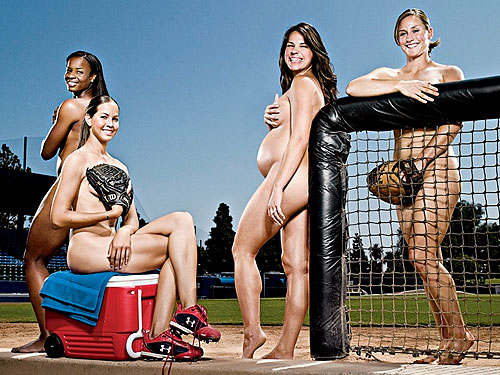 Courtesy ESPN for use on CBB