Drea de Matteo Laments the End of Her 'Sexy Girl' Days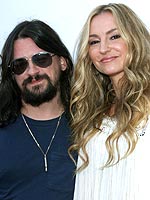 Jen Lowery/Startraks
Desperate Housewives fans who might have assumed that the addition of Drea de Matteo to the cast of the sixth season was a direct response to the departure of Nicolette Sheridan, take note!
"If they were actually trying to replace her, they would have hired someone 10 years younger and prettier than me," Drea tells TIME magazine. "Even though she's older than me, she's way hotter. And I just had a baby, so I'm definitely not filling her hot sexy wardrobe."
In a separate interview, Drea reveals that she's yet to lose all 75 pounds she gained with daughter Alabama Gypsyrose, 22 months, but she doesn't seem to mind; The 37-year-old actress says she'd happily have three more children "if my body could take it."
The way she views that body, however, appears to have been forever changed!
"I never knew I was a sexy girl until I was pregnant, until it was all taken away from me. Now I appreciate everything I had."
Alabama is Drea's daughter with fiancé Shooter Jennings. Desperate Housewives airs Sundays at 9 p.m. on ABC.
Sources: TIME, New York Post
— Missy