Scribblenauts: A Cool New E-Game for Kids of All Ages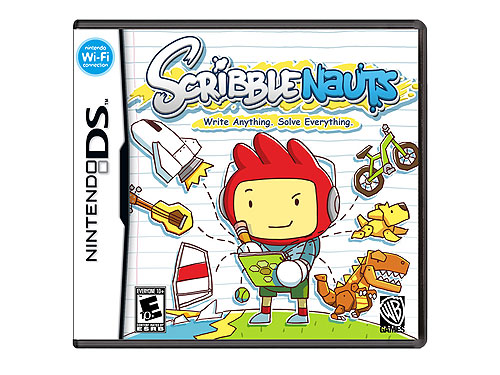 Scribblenauts
We're not big fans of video games in general, but when this cool — and addictive — game arrived we got an instant crush. It's not only really fun, but it's a great way to boost your budding wordsmith's vocabulary.
Made for the Nintendo DS, Scribblenauts ($30) features a hero, Maxwell, who's searching for "Starites" on a Super-Mario style quest. To help him claim his stars, kids can conjure up whatever tool they can think of. Star stuck in a tree? Just type in "lumberjack" and "ax" to chop it down. Or type in "fire" to burn the trunk until the tree collapses. Either way, Maxwell gets his star.
The game challenges kids to expand their imaginations and knowledge of words. Points are awarded at the end of each level based on how innovative a solution is (the lumberjack is worth much more than, say, using a chainsaw). It even teaches kids to find positive ways to solve problems — Maxwell gets bonus points if he's nice to his enemies and for heroic acts like saving other characters.
Overall, it's a fun, learning game that the whole family can play together.
— Sara Gaynes