i'coo Pluto Stroller: Chrome or Go Home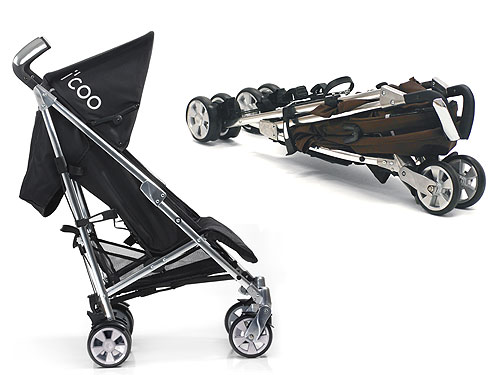 i'coo Pluto Stroller
The i'coo Pluto stroller from Grand Touring Baby ($300) is what you would get if your umbrella stroller went on Pimp My Ride. This tricked-out, high-end, glammed-up stroller turns heads wherever I go. The first thing you notice is the chrome frame which really makes the Pluto stand out, even among New York's fashionable stroller rollers.
Assembly and Fold
Assembly took me about four seconds. It comes out of the box with the six wheels attached and I only needed to pop on the sun shade. The fold is easy, too. Pull a handle in the back and it folds forward like an umbrella stroller and automatically locks tightly. It does not have a shoulder strap but can be carried by the same handle. The fold is where the similarities to an umbrella stroller end, though. The ride is much smoother than most, and at 15 pounds, the Pluto is heavier than many umbrellas.
Seat, Recline and Ride
The Pluto has an enormous, padded, reclining seat. It is almost 16 inches wide and yes, my adult-sized behind fit in it nicely. (I can't say I've ever done that before!) The seat does not recline to completely flat, which may be a deal breaker for parents of newborns, but it wasn't an issue with my toddler or my preschooler.
The Pluto holds kids up to 55 pounds and is very sturdy, so it will last. It has six plastic wheels that feel sort of rubbery and the ride is absolutely silent. I put my 33-pound 4-year-old son in it and pushed it silently across my hardwood floors, where many strollers rattle and clatter, and only heard my son giggling. Pushing it on the sidewalk is smooth and quiet and it maneuvers easily through doorways and store aisles. One touch of a brake locks both back wheels securely.
Storage and other Features
Storage on the Pluto is limited to a moderately sized basket (which is, incidentally, not accessible when the seat is reclined) and a slim pocket in the back of the sun shade. The basket is the same width as the seat, but is not very deep. There is no cup holder, no toddler bar and no storage on the handles. It comes with a rain cover, which I think should be standard at this price point, and I give i'coo credit for throwing it in.
The bull-horn handles don't make it easy to attach a diaper bag because there is no place to hook them. Stroller straps slide down until the frame gets wide enough to brace them, at which point the bag bumps the top of the seat from behind or drags on the ground. If the basket was huge, this wouldn't be a big thing, but it does make wrangling a big diaper bag challenging. The design does make it very stable and it never feels tippy, even with a bag attached.
Sun Protection
I wasn't impressed with the Pluto's sun shade. It only goes slightly beyond straight up and down and cannot be pulled down over the baby's legs. I think, for the price, I should not have to add a tacky-looking sun shade to my stylish, new stroller. It is such a common problem, though. I feel like I'm repeating myself in many stroller reviews when I beg for better sun shades. The shade has a window made of mesh and plastic so you can peek at the baby, but it is not in a good position for viewing and it has no flap with which to close it.
The Pluto comes in three colors (black, brown and a sage green) but for $40 you can add a bright seat cover. It's a nice way to customize your stroller and you could switch from pink to blue when the second baby comes along.
Pros: Solid feel and high-end good looks. Wide seat holds kids up to 55 pounds!
Cons: Lacks storage options and ample sun coverage.
Final Verdict: Next to a standard umbrella stroller, the Pluto looks like a custom Harley parked next to a bicycle. This stroller comes down to form vs. function. While it lacks sun coverage and the storage is only mediocre, the seat is great and you can always check your lipstick in that shiny chrome!
— Kristen