Valco Baby Ion Stroller: Get Charged Up for This Lightweight Stroller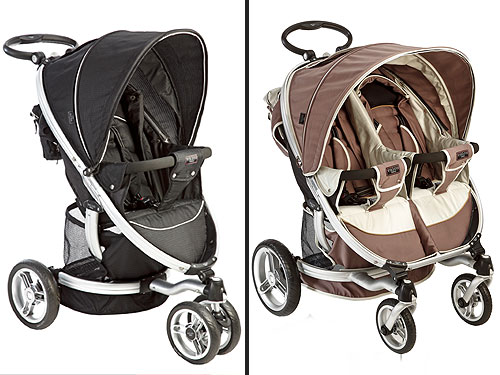 Valco Baby Ion Stroller
Valco Baby has a new, amazing lightweight stroller – the Ion ($399). Features include a smooth ride, tall storage basket, true one-handed steering with an ergonomic handle and extended sun canopy. It weighs in at 18 lbs (feels much lighter) and is ideal for city and suburban use. It also comes in a double version, the Ion 4 Two ($589).
Click here to see a demo of the Ion and here to see a demo of the Ion 4 Two.
Putting it Together
It was really simple — connect the wheels and bumper bar, then snap the side and front fabric panels around the bumper bar.
The Ride
The push, which I really liked, is very similar to the Baby Jogger City Mini stroller. You're not going to be able to jog or go off-roading with the Ion — but in the city and suburbs, this double front wheeler performs excellently. It's got a tight turning radius and is perfect for going around in small aisles and spaces.
The stroller is lower to the ground than I'm used to (but if you use an umbrella stroller already, you'll instantly feel comfortable with it). Taller parents will appreciate the adjustable handlebar (which has 6 positions). It was very easy for me to push it one handed, while holding onto my older child. The oval handlebar held my pocketbook and diaper bag — but make sure your bag isn't too long, I used Ju Ju Be's delightful WannaBe Diaper Bag with it and the backpack straps dragged on the ground (until I tucked them into the bag).
Infant Use
You can get an adapter to use a Graco, Peg Perego, Maxi-Cosi and Chicco Infant car seats with the Ion. A bassinet (carrycot) option will be available soon.
The Seat
The seat will hold a child up to 44 lbs. My 19 ½ month old felt very comfortable in the seat. The stroller has a slight recline, but I was able to adjust the seat to be more upright than I was probably supposed to. The bumper bar was a big hit with my daughter – she loved holding onto it and kept saying, "Go, go!"
Storage
The storage basket is taller and narrower than most baskets I've seen. The wire rim is flexible (very bendable) for when you need to take things in and out of it. Since this is a lightweight stroller, use caution in hanging too much weight off the handlebars (any lightweight stroller will tip when overloaded).
Sun/Weather Exposure
The sun canopy is terrific! Unzip it to extend it to its furthest capacity. A rain cover is available at an extra cost.
The Fold
The fold has two major steps: First, pull back the sun canopy and twist the gray "key" clockwise (on the handle), then push up the red secondary locking latch up and push the stroller forward to fold. You can attach the locking strap to the locking pin. To make it even more compact, take the back wheels off.
To unfold: First, unhook the locking strap. Lift the handle up and the stroller will snap together (the red locking latch will engage automatically).
Accessories Available
A rain cover and car seat adapter are available now, with a bassinet coming out soon.
Pros: The fold is simple and perfect for stashing in smaller vehicles/storing in smaller places. You won't have any trouble navigating smaller store aisles/spaces and the one-handed push is sensational.
Cons: At 18 lbs (with the wheels on), it's not as lightweight as other strollers.

Final Verdict: The Ion's no-fuss fold and effortless push makes it perfect for city and suburb use (and it will perform nicely for long walks). While the Ion isn't cheap, compared to other Valco Strollers, it is much less expensive.
The Ion 4 Two will also take an infant car with Valco Baby's adapter.
Exclusive for CBB Readers: Shop Let's Go Strolling for a 10% discount on either the Valco Ion or Ion 4 Two — use code CBBION. Expires December 21, 2009.
-– Nancy, Queens, NY, mom to budding comedian 4-year-old Ben and princess-in-training 1½-year-old Allegra, loves finding stuff that makes her family's life easier.