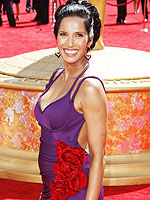 Peter Brooker/Rex
Expectant Top Chef host Padma Lakshmi isn't shy when it comes to discussing how her pregnancy has changed her life so far.
"One thing that happens when you're pregnant is that as your stomach starts to stretch [and] it itches! So I have to keep my belly really lubricated," she said Monday during a brunch in New York City to champion Reebok's line of Pink Ribbon products, which helps raise money to battle breast cancer.
Talking about how she handles the problem, Padma, 39, said, "Every morning, there's a buttering ceremony after I get out of the shower. It's really like basting a turkey with body butter."
Good thing she's got help. "Before, my housekeeper was helping me because I can't bend over to do my feet," said the model-turned-cookbook author, who revealed her pregnancy earlier this month. "Now my mom's here and she's been buttering up my tummy."
Speaking of butter, pregnancy hasn't curbed Padma's legendary appetite. She is in no way restricting her diet, and plans to eat her way through another season of Top Chef.
"I am as omnivorous as it's possible to be. I always say there's nothing I won't eat and nothing I won't wear," said the star, who plans to deliver and raise her child in New York. "Am I gonna be having a scotch on the rocks? No. But I never did that anyway."
As for her changing body, she admits the public scrutiny makes her self-conscious, but says she's used to it. "During the course of filming Top Chef, I gain 15 lbs., so I'm used to needing two dress sizes," she said with a shrug. "Now I'll just need three: my fat size, my skinny size and my super size."
As relaxed as she is about impending motherhood, Padma is eager to use her burgeoning belly to raise awareness for endometriosis — a condition she suffers from that led her to undergo two painful operations before resulting in the pregnancy her doctor has called "a medical miracle."
All in all, the health of her child — not her dress size — is her primary concern: "Many people could say I ate for two before I was pregnant," she joked. "It's just that my body is catching up with my appetite now."
As for the identity of her baby's father, Padma continues to keep mum on that subject. And when asked if she plans to find out her baby's sex before her late March/early April due date, the host said simply, "No comment."
– Suzanne Zuckerman