Teresa Strasser Declares: 'I'm Someone's Mom'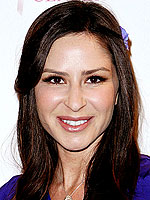 Landov
An elated — and exhausted! — Teresa Strasser took to her blog to give voice to the whirlwind of emotions accompany new motherhood. On her first day home with son Nathaniel James she writes,
"Sometimes it's kind of nice to find yourself living a cliché, deliriously happy and deliriously tired mom. That's me. Mom. I'm someone's mom. He is my son."
The 39-year-old former While You Were Out host admits that the concept was one she struggled to grasp beforehand. "For someone who wasn't baby crazy, who didn't really get babies at all, I do all the disgusting things like smell his head and take pictures of him incessantly," she says, "and become convinced that I'm not biased at all, but that my baby actually is extra adorable with fantastic hair."
Like most moms, however, Teresa also reveals that she harbored intense fears about baby boy's well-being — right up until a doctor pronounced Nathaniel a "chunky monkey" and brought him over to meet mom.
"I started bawling right there on the table, tears pooling around my oxygen mask, trying not to choke on snot and shock and the weird mucus that collects when you're on your back and pregnant," she writes. "Until the second they brought him over to me and let me kiss his goopy, red face, I was convinced that setting up a crib, and buying a rug for his nursery and occasionally imagining he would be okay would all have cursed him, and that I would never, ever be lucky enough to get a real live healthy baby."
"No matter how many tests told me otherwise and how often I saw his heartbeat, even moments before they removed him and I could hear his heart thudding steady and strong on the fetal heart monitor, I was sure this was all a big mistake and that something would be wrong and everyone had missed it."
Click below to read about how Teresa felt about her c-section.

Her c-section — scheduled because of Nathaniel's frank breech positioning in utero — was "gnarly," and appears to have caught Teresa by surprise. "The recovery was and is more difficult than I imagined, the surgery was terrifying and maybe this is just me, but I think I even caught a 24-hour bout of PTSD," she writes. "I know some people find them easy, I am not one of those people."
As she recuperates, Teresa says she takes comfort in knowing that so many women have gone before her. "I know that the sensations I'm having now, the baby 'high' and the rubbing his velvety arms and the crying cause I can't poop or sleep and the sad sack thoughts when I catch my bloated reflection and the surreal smacking myself over being his mom, and him not being in my stomach anymore, but instead sitting there in his bouncy seat," she writes, "I know this has all been said and done and felt."
"Maybe by you. Instead of that taking away from its value, today, somehow it seems to add to it. Instead of scoffing at the human experience, I'm just giving in."
Nathaniel is Teresa's son with husband Daniel Wachinski.
Source: TeresaStrasser.com
— Missy