Nia Long's Message to Single Mothers: 'Don't Feel Guilty'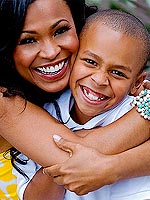 Courtesy Nia Long
History has repeated itself for Nia Long, who, after being raised by a single mother, is now bringing up her own son in a single-parent household as well. "It's very interesting how we repeat patterns in our family," she muses in a new interview with Spotlight to Nightlight.
Able to relate on an entirely new level, Nia notes her mother's determination — in a situation far more dire than hers — serves as an inspiration in her own life.
"It was a lot different because my mom was fresh out of college, she was a lot younger, we lived in South Central Los Angeles, money was hard, times were a lot more difficult."
Despite maintaining a tight budget, Nia recalls a childhood filled with vacations and trips to museums, all a result of her mother's effort to expose her children to opportunities outside of their environment. These days, the actress finds herself doing the same for her 8 ½-year-old son Massai Zhivago. "I think the most important thing with him is balancing the time and exposing him to things, but also showing him where I came from so he can have the desire to actually be something great in his life."
In an effort to nurture the bond between mother and son — and keep the communication lines open — Nia has banned morning television, instead concentrating on quality conversation with Massai. "We talk about what's new at school," she explains. Often times, the conversation takes a turn and the duo end up discussing Massai's love life, including his gal pal Ella!
"It's usually about his girlfriend, Ella. Did I just say her name on television?"
Click below to read about Massai's father's involvement … and more on Ella!

Quick to point out that Massai's father is "totally involved, so that takes off a lot of the pressure," Nia still finds that the day-to-day decision-making is left up to her. "Honestly, it's organization and planning…and keeping a clean house!" she says. That said, Nia understands the stress of balancing a career with motherhood often becomes too much to bear. "Don't feel guilty about being a single mother," she coaches.
"Patience is super important as a single mother. You do have to be a little more patient because all of the responsibility is on you…ask for help!"
No one will catch Nia's son being parented by a third party, however; The actress prides herself on her dedication to Massai. "It is a nonstop thing and I'm very hands-on," she reveals. "I certainly don't want anyone else raising my child, so if you get the domestic stuff out of the way, and the business stuff out of the way, then you have mommy time." And on those days where her work has piled up to the point where time spent with Massai is limited, Nia looks forward to bedtime. "Well my son still sleeps in bed with me…and I love it," she raves.
"Every now and then I get a foot in my neck or an elbow in my back, but when the whole day goes by and he's busy being a boy and I can't even kiss him goodbye on the first day of school because Ella's watching, that's my time and we snuggle and it's the best…it's awesome."
Source: Spotlight to Nightlight
— Anya