Julie Bowen Confesses to a Breastfeeding Blunder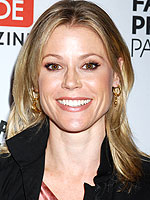 Roger Karnbad/Celebrity
After expanding her family with husband Scott Phillips by three — sons Oliver McLanahan, 2 ½, and twins John and Gus, 5 months — in a matter of two years, Julie Bowen told the ladies of The View that she's skilled when it comes to baby business.
"I'm good at making babies."
While her many talents extend to filming her new series Modern Family while 8 ½ months pregnant with twins — "I'm behind everything, I'm behind people, cakes," she explains —  one of Julie's greatest feats since welcoming her sons may be her dedication to breastfeeding the boys. "It is tricky," the actress admits of juggling her working schedule with that of nursing.
Fortunately, Julie seems to have found the answer when it comes to managing her time wisely: she pumps milk while she drives! "You slap it on, turn on the machine and you drive along. I'm so used to doing it that I don't even think about it anymore," she laughs.
Case in point? Stopped and forced to make a road detour, Julie — simply wanting to get home to her family — rolled down the window and asked a nearby police officer for help, oblivious to the fact that she was still connected to her pump.
"I said, 'Officer, what's going on?' and he starts walking over to the car. I realize I've got an air horn attached to my boob and all of a sudden [I said], 'Oh, no! No, no, no, stay away, I'm fine, really, please don't come over to the car,' because I didn't want him to think I was drunk or something!"
The act of breastfeeding twins takes time — and patience! — notes Julie, 39, who profusely thanked her baby nurse Sharon for teaching her the ropes of the double football hold. And while many may marvel at a mother's ability to simultaneously feed two babies, Oliver is far less impressed. "[He] comes up and he gets mad [and says], 'Mommy, mommy, mommy,'" she shares.
"He just stands there and throws things…looks at me defiantly."
Modern Family airs Wednesdays at 9 p.m. on ABC.
Source: The View
— Anya