Julianna Margulies on More Kids: 'I Don't Think So'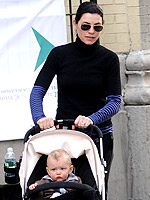 Splash News Online
A recent trip to Live with Regis and Kelly brought back a flood of memories for Julianna Margulies. "The last time I was here he was 6-weeks-old," she mused of son Kieran Lindsay, now 20 months. "It goes fast."
"Now I know why people have a second [child]. But…I don't think so."
Another baby seems even less likely given the long hours the 43-year-old actress is currently working on the new show The Good Wife. Sixteen hour days are the norm, she shares, often beginning at 5 a.m. and not ending until 9 p.m. The revelation prompted show co-host Regis Philbin to wonder whether "the little guy is saying at 6 o'clock at night, 'Where's my mommy?'" which prompted Julianna to quip, "Thanks, Regis. I feel much better now."
All joking aside, Julianna says she is grateful for the flexibility afforded by her career. "I'm lucky, I get to take him to work most days with me," she points out. "Even if it's for a few hours." She adds,
"And my husband, thank God, gets home every night at 6:30 so he always puts him to bed. So he's always got one of us."
Kieran is the first child for Julianna and her husband of almost two years, Keith Lieberthal. The Good Wife airs Tuesdays at 10 p.m. on CBS.
Source: Live with Regis and Kelly
— Missy