Jenna Elfman Says Story Is Intuitive About Baby-on-the-Way
A "tired, but good" Jenna Elfman recently visited The Bonnie Hunt Show, and lamented the biggest struggle of a subsequent pregnancy. Already mom to Story Elias, the 38-year-old Accidentally on Purpose star says that "it's definitely different being pregnant with a 2-year-old running around…than being pregnant with [just] yourself." She elaborates,
"He doesn't get, like, 'Okay, honey. Well let me just play with you [while] sitting. Like, I'll sit, and we'll play.' He's like, "Mama up! Mama up, up, up!' I'm like, oh my God, because he won't stop until I stand up. There's no choice in the matter."
When it comes to preparing Story for the baby-on-the-way — due in March — Jenna says that she hasn't laid the groundwork yet, but from the sound of things she won't need to. "He kind of, on his own, pointed to my belly and was going 'Baby!' and then started doing the shuffle walk with his hands behind the hips," she shares. "I haven't done that yet, because I'm not big enough to do that yet, and I'm like…'Where did that come from?'"
"So I go, 'You're funny,' and he goes, 'I'm funny!' He knows [about funny]. He'll identify other things as funny, and he's really oriented to funny which I'm glad about, because a sense of humor is important."
Story and baby-on-the-way are Jenna's children with husband Bodhi Elfman.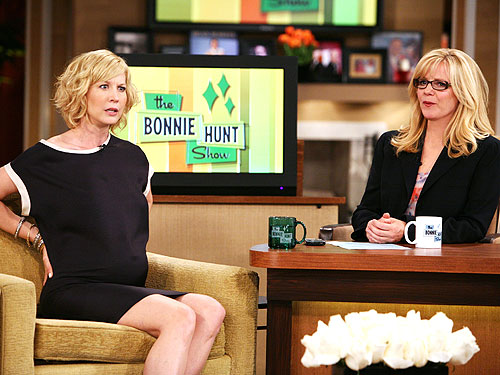 Warner Bros./Sarah Hummert
Source: The Bonnie Hunt Show
— Missy