Reusable Snack Bag Round-Up: Plastic Baggies Be Gone!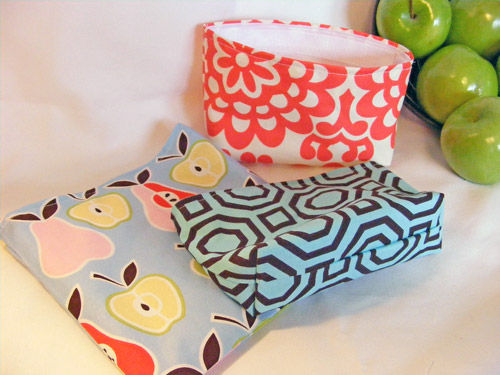 Green Street Bags
I'll be the first to admit it — I'm rather dependent on little, plastic, zip-top bags. Gasp! I know. Not anymore! These amazing, reusable bags make it easy to pack and carry goodies for all snack-worthy occasions. And with all kinds of sizes and styles available, I'll never need another plastic bag again!
Green Street Bags
Simple, sweet, and so easy to use. That's what I love most about Green Street snack and sandwich bags ($7, pictured above). A strip of Velcro across the top keeps snacks contained and food-safe nylon lines the little cotton bags. We've really put these bags to the test – they travel well, wash well and are easy for little hands to hold. The Velcro holds tight when you need it to, and opens easily for snack time. Both snack and sandwich sizes are great to have on hand.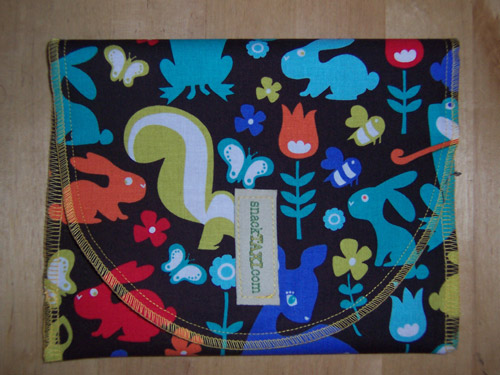 snackTaxi
snackTAXI
The nifty little snackTAXI snack and sandwich bags (from $7) come in every color of the rainbow — really, they do. With so many patterns to choose from, you're sure to find one you like. Designed somewhat differently than the others, snackTAXIs have a fold-over flap with Velcro that prevents leaks and crumbs from getting out. Cotton on the outside and food-safe nylon on the inside, these little bags are available in two sizes and can hold more than your kids could possibly eat. Though I guess that depends what you're putting in them, doesn't it?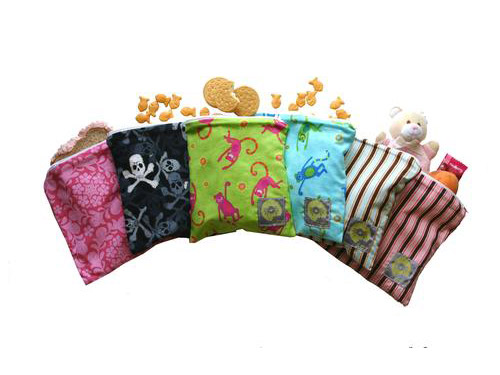 Itzy Ritzy
Itzy Ritzy Snack Happened
Bags from Itzy Ritzy are my go-to bags ($10) when we're bringing snacks that aren't the dry, crispy type. You know… like cut up fruit, cheese, etc. These bags have a PVC-free waterproof lining — so they won't leak. A lead-free zipper on the top seals the bag and makes getting snacks easy. Don't miss the generously-sized Wet Happened? bags ($18) — which are just like the snack bags, only bigger — and are actually perfect for bigger food items like school lunches or picnics!
CBBDeal: Save 20% off all new Itzy Ritzy purchases using coupon code 'CBBSNACK' (expires 12/31/09).
— Stephanie, crunchy, urban Canadian mama to a 4-year-old contrarian son and a 1-year-old philosopher daughter loves all things green, gadgety and glam.