Lässig Messenger Diaper Bag: Use It Long After Your Child Says Goodbye to Diapers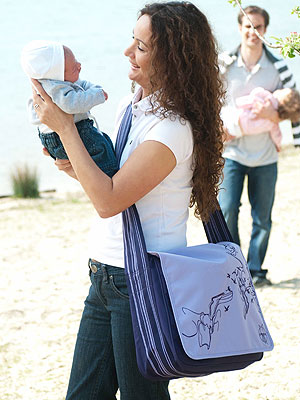 Lässig Messenger Diaper Bag
Alerting all multi-tasking parents! Check out Lässig's new messenger style diaper bag ($95, "birds purple" left). The roomy design is perfect for toting around baby or office necessities.
Imported from Germany, it features the company's signature thick striped strap, loads of interior pockets, two exterior pockets, a removable bottle holder, a removable elasticized bottle/snack pouch, a large zippered wet pocket, stroller hooks and a removable small zippered pouch.
Once you — and your little one — have moved past the baby/toddler stage, remove the changing pad and bottle holder and add Lässig's laptop sleeve and pencil pouch to make it more office-friendly. Mine is already pulling double duty (work during the week and kids on the weekend).
CBB Deal: Use code: CBBLBAGS for 15% off at Amazon.com — it's under the Trends for Kids Storefront.
-– Nancy, Queens, NY, mom to budding comedian 4-year-old Ben and princess-in-training 1½-year-old Allegra, loves finding stuff that makes her family's life easier.