Jason Aldean, Wife Not Willing to Tempt Fate For a Third Baby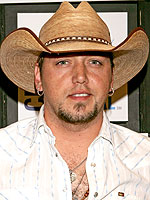 Tony R. Phipps/WireImage
Country crooner Jason Aldean has no qualms with being the only man in his household. In fact, he couldn't be more thrilled to be surrounded by his three lovely ladies — his wife Jessica and their daughters Keeley, 6, and Kendyl, 2! "I like having two daughters 'cause they're close to their daddy, that's why," he tells OK!.
A self-proclaimed "softie," Jason notes that after the birth of Keeley, he found himself hoping their second child would be another girl. "There's nothing cooler to me than being a parent, and girls are sweet and innocent — at least right now," he laughs. And while the couple would "love to have more" children, pregnancy complications with Kendyl have left them completely content — and grateful — with their family of four.
"There's people out there who can't have one, and that would've been tough, but we've got two healthy ones, and my wife's healthy now. We don't want to chance it by trying to have another one, so we're happy."
One platinum and two gold certified albums later and Jason knows how to treasure his down time, sharing that his new talents include swim coach to the girls. "I've been teaching [Keeley] how to swim," he shares. "To me, that's the cool thing. To be able to hang out and not really do anything, but get to spend some time with them."
Time spent with their father has rubbed off on Keeley and Kendyl, Jason laughs, revealing that both girls have shown interest in country music. However, that said, their love for music knows no bounds!
"[Keeley's] one of those kids that knows every song that comes on the radio," he explains. "She'll sing George Strait, then turn around and sing Black Eyed Peas. She's the one who really seems to have the music bug."
With the father-daughter bond going strong, Jason hopes their close relationships are a glimpse of what's to come in the future.
"I've always heard that girls end up being closer to their dad the older they get, and I'm hoping that's the case."
Source: OK!
— Anya