Heidi Klum Wonders: 'Maybe Today is the Day'
During a Wednesday visit to The Ellen DeGeneres Show, a very pregnant Heidi Klum said she is more than ready to welcome her fourth child. "Maybe today is the day," she mused. "I'd be happy with that, you know, because at the end you're like…'Come on, already!'" Baby-on-the-way — a girl — is due in mid-October and, as such, could arrive at any time. "Maybe a week, maybe two weeks…the boys were a week late and [5-year-old daughter] Leni was a week early." the 36-year-old Project Runway host explained.
Vowing that because she and husband Seal will "be even" with two girls and two boys apiece, and that the couple will "be done" as a result, Heidi says that their minivan is already operating at full capacity. "We have, like, this big bus when we go to school," she notes. "It's quite exciting, to have this little boy [2 ½-year-old Johan] who is approaching 3, now going to school with his little lunchbox."
"And we come in this big van, and they always look at us like … 'Yeah, the Samuel van is here.'"
When asked by host Ellen DeGeneres — who later competed with Heidi in a baby diapering/dressing/PB&J-making contest (see below!) — whether the minivan was at all avoidable, Heidi said no way. "We all don't fit otherwise," she explained. "It's impossible."
In addition to Leni and Johan, Heidi and Seal are parents to 4-year-old Henry.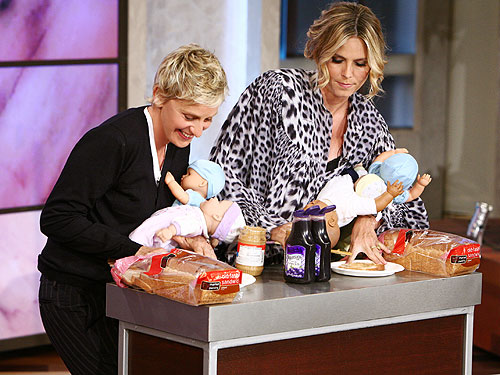 Michael Rozman/Warner Bros.
Source: The Ellen DeGeneres Show
— Missy