Courteney Cox-Arquette: Breaking All The (Kindergarten) Rules!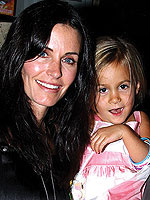 Bruce Glikas/FilmMagic
During a recent visit to The Ellen DeGeneres Show, actress Courteney Cox-Arquette dished on the "big summer" she just enjoyed with husband David Arquette and their daughter Coco Riley.
Birthdays aplenty (Coco turned 5, while Courteney turned 45) and an anniversary (the couple's tenth) were celebrated, but now the family-of-three has moved on to bigger and better things: Kindergarten! "There are a lot of rules," Courteney notes. "I mean, so many rules you can't believe it."
"You can't bring certain snacks because other kids are allergic. You can't wear certain clothes because, I'm not sure, they're too risqué? I'm not sure. And, you know, Coco loves to dress up."
Prior to the start of class Courteney attended a conference for parents where the rules were unveiled. "It's an amazing school, but … David was out of town, we've been known to be late, and the lady was like, 'I'll say this: it's very, very important for you all to be on time."
When David returned from New York City the next day, he was anxious to handle Coco's dropoff himself — but Courteney didn't have a chance to debrief him on all she had learned. "He's like, 'I was a little late,'" Courteney recalls. "I said 'How late?' and he goes, 'Fifteen minutes.' 'What time did you get there?' '9 a.m.' I said, 'No, you weren't 15 minutes late. It starts at 8:20 a.m. You were 40 minutes late!'"
The bad news didn't end there, however! David went on to reveal that he dressed Coco in a spaghetti-strap top and packed the banned snack Pirate's Booty in her lunch, as well.
"I said, 'David, that's three rules!' Our communications went through a breakdown, but we're gonna get through it. We're going to get expelled."
Courteney's new show Cougar Town airs Wednesdays at 9:30 p.m. on ABC.
Source: The Ellen DeGeneres Show
— Missy