New Orleans Hornet Chris Paul Pens His First Children's Book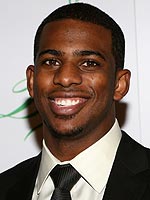 James Atoa/Everett
New Orleans Hornets player Chris Paul has a message for his young fans: dream big and you will achieve. The advice hits close to home for Chris, who growing up in North Carolina was told he would never measure up — literally! — to other basketball players. Now, a two-time NBA All-Star, Chris is hoping to inspire other children with his new book Long Shot: Never Too Small to Dream Big.
A first-time father after welcoming his now 4-month-old son Chris Emmanuel Paul II with girlfriend Jada Crawley, Chris admits that it wasn't fatherhood that led the basketball player to pen his own children's book. "I think what inspired the book is my passion for kids," he says. "I want kids to know my story and to also understand that it's not just about basketball — it's about life."
That said, the addition of baby Chris in conjunction with the release of the book has certainly brought about an added joy for the father-son pair. "It's funny because the book was two years in the making, so it wasn't fatherhood [that inspired me], but now, to be a father, it makes the book even more special," he shares.
Calling fatherhood "the best thing ever," Chris notes that his world has been changed for the better as he looks forward to imitating the relationship he shares with his own father.
"I've been fortunate enough to have a dad who's always been there for me and at every game, and I'm so excited to do that for my son."
Source: Essence
— Anya