Kate Beckinsale: Len and Lily Bond Over 'Obsession' With Comic Books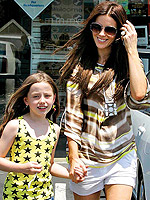 Flynet
There is no need for the director to call a wrap on set for Kate Beckinsale; Her daily closing bell is dictated by her daughter Lily Mo's shower schedule. "I'm a regular working mom, who puts her kid in a bath, which is probably very annoying…when I'm like, 'I have to go home now. My daughter needs a bath,'" the actress jokes in a recent interview with Movies Online.
Having 10 ½-year-old Lily close by is important for Kate, who makes a conscious effort to maintain as normal an environment as possible for her family. "She comes with me," she explains. "I don't leave her behind."
As a result, Lily has grown accustomed to the luxury — and unique opportunity — of traveling the globe. "I think she's lucky to be around lots of very nice, creative, sweet people, and have experiences around the world," she notes.
And while Lily's father Michael Sheen is an active part of her life, the same is true for Kate's husband Len Wiseman. "They go to get comic books together, and I look really confused," she laughs. "I just can't compete with their level of obsession, but I respect it, I married it and I live with it."
Much like she is adjusting to the world of comic books, Kate laughs that she has also been forced to accept herself as an action figure.
"My daughter has an action figure of myself and her dad. It's just weird when I catch her with one in each hand, and I wonder, 'What's going to happen next? How's that going to go?'"
Kate's new movie Whiteout is now in theaters.
Source: Movies Online
— Anya