Celebrities are known for pushing the envelope when it comes to naming their babies — to say the least! Nameberry.com co-founder Linda Rosenkrantz notes that recently some celebrities have been blazing a different trail, however. "One of the latest trends among celebrity parents is the trend away from trendiness," she notes. "Even though we still see some extreme choices like Bandit and Bronx, more and more celebs seem to be opting for classic, traditional, 'normal' names."
Although it's possibly a backlash against all the negative publicity provoked by their "kooky" celebrity baby name counterparts, Linda suspects that "a bigger factor is the wish to give their children names with substance and, ideally, some connection to family history."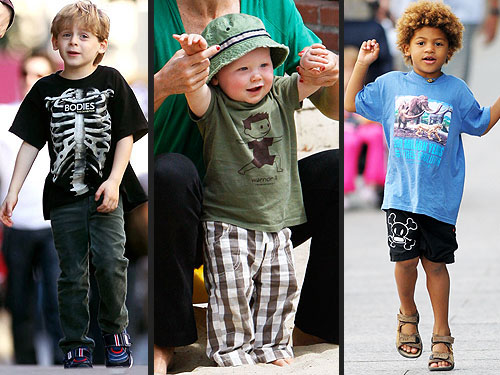 Ramey; Mike/Splash News Online; Pacific Coast News
British royal names — Anglo-Saxon classics — have made a real comeback, and Henry leads the charge. The name of choice for celebrity parents like Julia Roberts, Minnie Driver, Heidi Klum and Rachel Weisz, Linda labels Henry "one of the hottest names in Hollywood." Other star-baby boy names in this category include James, as chosen by Sarah Jessica Parker and Matthew Broderick, Isaac Hanson, Tom Cavanagh and Colin Farrell; John, as chosen by Julie Bowen, Nancy Grace, Bridget Moynahan, Johnny Depp and Lauryn Hill; Edward, as chosen by Megyn Kelly; Charles, as chosen by Russell Crowe, Emily Robison, Cynthia Nixon and Chris O'Donnell; William, as chosen by Sarah Shahi, Mary Louise Parker and Billy Crudup and Clay Walker; and George, as chosen by Eva Herzigova and Kristin Scott Thomas.
There are other, non-regal traditional boys' names that are making a comeback on celebrity birth certificates. Mayim Bialik named her son Frederick, Jack Black and Dennis Quaid each chose Thomas, Traci Lords has a Joseph (while Kate Winslet went straight to the nickname Joe), Bryce Dallas Howard is mom to Theodore, Jennifer Hudson opted for David Daniel, and one of Diana Krall and Elvis Costello's twins is called Frank.
Click below to learn the biggest perk of picking a classic name.
Linda goes on to note that a big advantage to a classic name is the litany of nicknames they usually will offer.
"So although these children have conventional names in first position, ready to face the serious challenges of life, some of them are called by lighter nickname or middle names, such as the Schreiber boys, Alexander and Samuel, who go by Sasha and Kai, Amanda Peet's Frances, who answers to 'Frankie,' and William Huckleberry Paisley, known to one and all as 'Huck.'"
For girls, the anti-trendy trend hasn't been as quick to catch on. There have been very few celebrity babies named Mary, Margaret, Katharine or even Elizabeth in recent years, though Linda says that some traditional favorites continue to thrive. Among them are Charlotte, as chosen by Sarah Michelle and Freddie Prinze and Dylan McDermott; Stella, as chosen by Tori Spelling, Gena Lee Nolin and Ellen Pompeo; Lily, as chosen by Fred Savage; and Grace, as chosen by Mia Hamm and Nomar Garciaparra, Norah O'Donnell and Elisabeth Hasselbeck. Linda adds,
"What we do see is an interesting revival of normal names that haven't been popular for a while (and well may reflect family connections), such as Adele (Molly Ringwald), Marion (Sarah Jessica Parker and Matthew Broderick), Beatrice (Heather Mills and Paul McCartney) and June (Balthazar Getty)."
In addition to her work with nameberry.com, Linda has co-authored ten baby-naming books with Pamela Redmond-Satran. Their newest title, Beyond Ava & Aiden, is available now.
Did you/would you use a traditional name? Which did you choose and why?
– Missy