Marty and Amy Wolff Introduce Blaine Patrick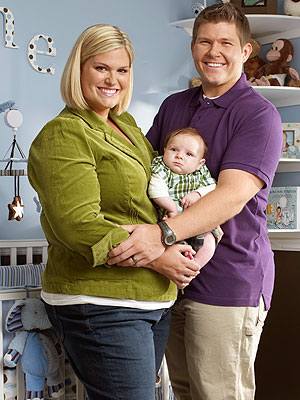 Jeff Sciortino for PEOPLE for use on CBB
Competing on The Biggest Loser didn't just help Amy Wolff find a husband (fellow contestant Marty Wolff, whom she married last year).
The NBC weight-loss show "prepared me to be pregnant," says Amy, who refused to fret when she went from 180 to 250 lbs. before delivering the couple's 10 lbs., 14 oz son Blaine Patrick via c-section on July 4th.
Now "I have the knowledge and confidence that I can get back to normal," says Amy, 30, who has already shed 40 lbs., mostly through running (on Loser in 2006, she had lost 106 of her original 260 lbs.).
"I know it's possible."
Besides, bonding with baby has made it all worthwhile.
"Blaine is a mini-me!" says Marty, 28, who with Amy runs Reality Wellness, a weight-loss and self-improvement program, from their Omaha home. "He's a big guy."
Which has given Marty equally big ideas about his future: "Marty thinks he's going to be a football player," says Amy. "He got him a shirt that says 'No. 1 Draft Pick.'"
But Amy will be happy no matter what Blaine becomes. "I love looking into his eyes and thinking of the possibilities," she says. "We want to raise him in an environment where he knows he can acheieve anything he wants." Just like his parents.
— Cynthia Wang
Click below for a second photo!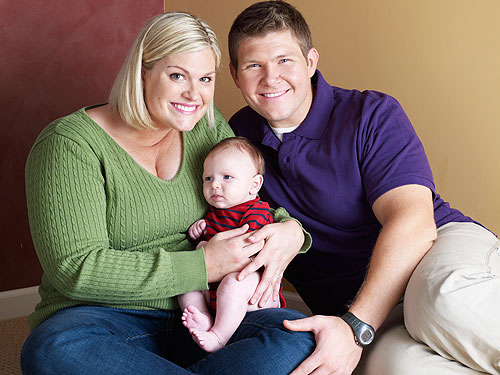 Jeff Sciortino for PEOPLE for use on CBB