Harry Connick Jr. on a House Full of Girls: 'I Love It'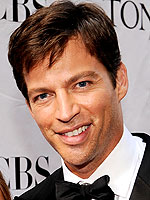 Larry Busacca/WireImage
Between his wife Jill Goodacre, his daughters Georgia Tatom, 13, Sara Kate, 12, and Charlotte, 7, and even the two family dogs, Harry Connick Jr. is — quite literally — surrounded by girls. The 42-year-old singer/actor tells The View that he wouldn't have it any other way.
"I love it," he raves, and for good reason! Harry reveals that his late mother — who died when he was just 13 — was an inspiration.
"She was my hero. I think she spoiled me to be around very, very bright, strong women…I'm just, I'm around amazing women a lot."
The girls are growing up fast and Harry says that he's grateful they take after mom. "My dad said, 'Your girls look a lot like Jill,'" Harry jokes. "In other words he's saying, 'You're ugly, bro.'" They have inherited at least some things from dad, however. While Sarah enjoys singing, Georgia plays piano — though not with the same passion that Harry displayed, when he began playing at age three.  "All I wanted to do was play when I was a kid," he recalls before adding,
"But she's not really into it. She's like, 'Dad can you show me something?' And I'll teach her and she'll play it fantastic, but she's more into sports."
Harry and Jill celebrated their fifteenth wedding anniversary earlier this year.
Source: The View
— Missy