Tike Tech CityX3 Stroller: Three-Wheeled Wonder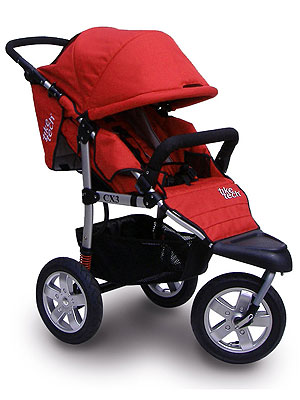 Tike Tech CityX3 Stroller
The evolution of the 3-wheeled stroller in the last few years has been dramatic, and this fall Tike Tech hopes to up the drama with it's newly redesigned and re-engineered CityX3 ($330) version.
Ideal for a variety of parents — from city dwellers to suburbanites — the CityX3 is one of the easiest 3-wheelers I've ever maneuvered.
Click below to read about why the CityX3's seat is second to none.
Set-up was a breeze: My husband had the CityX3 up and running in under five minutes. It would have been faster, but we were a little confused by a stabilizer bar that was included to protect the stroller in transit.
The oval-shaped frame of the CityX3 does resemble other 3-wheeled strollers currently on the market, but looks are deceiving. The air-filled 12-inch wide track swivel wheel turns on a dime, but stays straight as an arrow after a quick adjustment to the tracking system. Babies will enjoy smooth rides thanks to dual rear suspension and an innovative shock system which significantly decreases unwanted vibrations at wheel impact.
I loved the seat! It's far superior to pricier strollers I've tested. It's fully padded — including the sides — with new, softer fabric. It also features actual back support (instead of the sling style used by many three-wheeled strollers) and is easily lowered with a one-touch, one-clip recline system.
That ease of use extends to the five-point harness, which can also be undone with just one touch, as well as the push button quick release 12-inch wide track rear wheels and a one step dual rear parking brake.
The CityX3 is very versatile. With an adapter bar (not included), it's able to accept a variety of infant carseats — including the Graco Snugride, the Chicco Key Fit, the Peg Perego Primo Viaggio and more. There is also a rear-facing bassinet which can be purchased separately. The stroller seat itself is safe when reclined for an infant beginning at 6-weeks, and on the flip side, it comfortably seats our 35 lb, 3-year-old son and is in fact safety rated for a child weighing up to 60 lbs.
The basket under the seat isn't quite as large as I would like, but it is comparable to the baskets found under most three-wheeled strollers. There are still lots of storage options, including two interior mesh pockets and a mesh pocket on the back of the seat. Other parent-friendly features include a removable seat cover and stain resistant fabric and an extremely uncomplicated, straightforward one-step fold.
At 26 pounds, the CityX3 isn't lightweight but it easily fit in the trunk of our sedan. When folded, it measures 32.5″ x 24″ x 18.5″.
Overall, this stroller covers all the bases. It's certainly worth the $300 plus price tag. You'll be hard-pressed to find a better option. Not only will it accommodate your newborn, but your toddler as well. Plus, the CityX3 has a first-rate seat (and ride!) that is second to none.
— Missy