Boo! Ghosts, witches, critters and cute little faces will soon be parading down the streets, ringing doorbells and calling out trick-or-treat for candy bars. And while the excitement is building for children as to what they will wear on the big night, finding the perfect costume can be a never-ending battle for the adults.
As some creative parents brave the sewing machine and needle pricks as they set out to create the perfect costume for their little one made with lots of love, others tend to go the more conventional route and hit up the nearest shops to browse through the selections.
At Celebrity Baby Blog, we've tried to make the search that much easier by gathering up some of the hottest Halloween costumes! From plush puppies and cute kittens to friendly dinosaurs and little lady bugs, we've covered them all.
Check out our favorites below!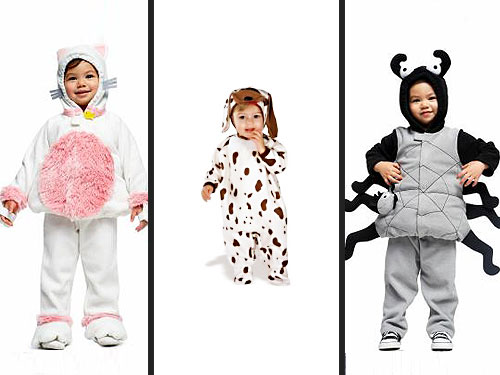 Kitty Costume; Rubies Plush Puppies Halloween Costume; Spider Costume
Don't squash this cute spider! Just the ticket for little ones who have discovered the fascinating world of creepy crawlers (and want to step into their eight legs for a night!), be sure to check out their Spider Costume ($22.50).
Meow! Felt whiskers and a soft faux-fur collar are the perfect finishing touches on the company's Kitty Costume ($22.50).
For the little ones, Old Navy offers an adorable selection of long sleeve tops — check out 'I'm So Cute It's Scary' ($6) and 'Happy Halloween' ($5) — and a Glow-in-the-Dark Skeleton One-Piece ($9.50).
Oh the places you will go…with your child on Halloween in their Cat in the Hat ($23) costume!
For the cutest chick around, we've got our eye on Chick Toddler ($30).
Parents really will be One Step Ahead with the wide-range selection of costumes this company has to offer. Our favorites? Lil' Lion Costume ($50) and Tulip Pixie Costume ($23).
We also appreciate that One Step Ahead has considered younger siblings — too little to care about candy — who would much prefer to stay snuggled in their strollers. With the Goldfish Bunting Costume ($19) or the Banana Bunting Costume ($30), baby will boast both style and warmth!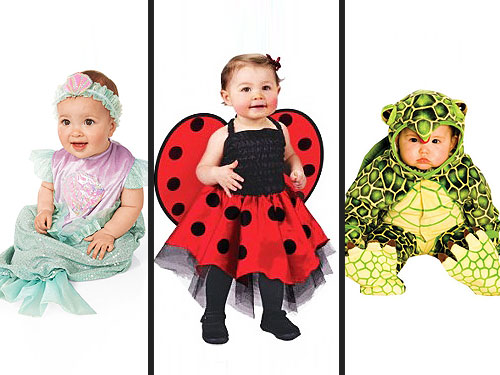 Mini Mermaid; Cute Little Lady Bug Infant Costume; Infant and Toddler Plush Turtle Costume
Bring a bit of spring to a cool, fall evening with Flower Costume ($17), a three-piece set that includes both a zip-up and snap closure for your budding blossom.
Rawr! We love the Dinosaur Costume ($22), which comes in a warm polyester, velour fabric complete with back scales and a long tail!
Any little princess is sure to spread her wings and try to fly in this Butterfly Tutu Costume ($69)! To add to the beautiful satin, long sleeve blouse and adorable matching wings and headband, make sure to check out the coordinating treat bag ($19).
For boys, try Puffy Alligator Costume ($59). The fully-lined, velour costume comes with felt scales down the back and tail for added texture and a matching head piece with some sharp looking (but soft to the touch!) teeth!
Always a favorite, we are loving the two-piece Mini Mermaid ($34) costume for little girls.
A gender-neutral option, we like Baby Elephant ($58) costume, which includes slip-on baby booties with gripped bottoms.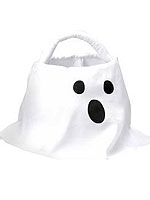 Old Navy's Halloween Felt Treat Bags
Treat Bags: Sure an extra pillow case — or something even as simple as a plastic bag! — works just as well, but for those parents looking to go all out for baby's Halloween, check out these adorable treat bags.
Makeup: Need to paint a ghoulish face white? A witch's face green? Add whiskers to your little kitten? We recommend Luna Organics ($13), a new kids' natural make-up line made with organic, hypoallergenic ingredients.
– Anya