Christian Slater: 'Having Kids Is a Phenomenal Eye-Opener'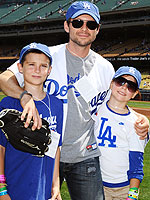 Bauer-Griffin
Some roles hit closer to home than others, and for Christian Slater portraying a detective haunted by the disappearance of his daughter on the new show The Forgotten is one of them.
"I certainly know that I can identify with loving your family and loving your kids and thinking they're the most important things in your life," says the 40-year-old dad-of-two. "Losing one of them is just not something you want to give a lot of thought to, but I do face it on the show."
For a time, the Heathers star admits that high school was something else to be avoided but that all changed several years ago when Christian obtained his GED. Noting that "having kids is a phenomenal eye-opener," Christian says that after welcoming Jaden Christopher, 10, and Eliana Sophia, 8, his "whole idea on education started to shift just a little bit."
"I definitely wanted them to finish high school, but I hadn't finished high school. So I knew that if I tried to push them, I would lose the argument because they'd be like, 'Hey dad, you never finished.' So I went and sat in a classroom with a bunch of students and got my GED."
So powerful was the experience, Christian now volunteers with the Get Schooled initiative recently launched by the Bill and Melinda Gates Association. "I'm helping raise the awareness of how many high-school dropouts there actually are a year, about a million students.," he explains. "It's a very, very scary statistic, and you know, it needs to be paid attention to. So, ironically, as a result of a decision I made 10 years ago, I've become an educational ambassador."
Christian adds that he hopes his passion for learning is evident to Jaden and Eliana. "We lead, of course…by example, and try to be the best examples we can be for them," he notes. "I think it just helps all around."
"Lately, I've been reading the Nancy Drew books to my kids, and I just do what I can to encourage them to be little readers. We started going through three chapters of Nancy Drew every night, and they're so into it. It's about the idea of cliff-hangers in the stories, which is keeping them engaged. Their enthusiasm has really kind of got me very excited about it."
Jaden and Eliana are Christian's children with ex-wife Ryan Haddon. The Forgotten airs Tuesdays at 10 p.m. on ABC.
Source: PARADE
— Missy