Jennifer Garner Says Daughters Enjoy a 'Normal Upbringing'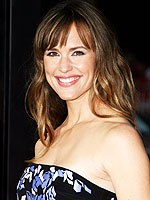 Juan Rico/Fame
Raising normal kids in abnormal circumstances is something most celebrity parents will struggle with at some point, but Jennifer Garner notes in a new interview that normal is a relative term.
Although she laments the lack of laws in place to protect the privacy of Violet Anne, 3 ½, and Seraphina Rose Elizabeth, 8 ½ months, she nonetheless believes they have enjoyed "a very normal upbringing."
"They do have things that are really exciting for them and strange for them, I'm sure. Like living in a different place for a while then going back home. But kids have that with parents with all different jobs so I try not to look at it as something that is a problem. But kids are kids, they think whatever goes on in their lives is normal."
When asked to describe her perfect day, the 37-year-old actress depicts something that sounds quite normal indeed: Some quality time with each daughter, and then playtime together, followed by a home-cooked meal "where there's enough [food] left over for another day" and "a glass of wine and a conversation" with husband Ben Affleck.
The picture she paints is in keeping with Jennifer's low-maintenance approach to her wardrobe — especially by celebrity standards! "If you look at the pictures taken every day of my life you'll see that I do not make it work most of the time," she jokes. "I am in jeans that are on the floor from last night and one of the five t-shirts that I rotate."
"I do know moms who pull it together every day — I am not one of them. But when I do, I try to really pull it together so it makes some kind of impact. Sometimes for yourself you just need to take a shower, put on something clean, put on a little blush and go out the door."
Click below to read Jennifer's advice for working moms.
Taking the time to take care of herself is something she hopes Violet and Seraphina take note of as they get older, among other things! "It's so important to me that they grow up with a healthy self-esteem, confidence and knowing just where to kick if they need to," Jennifer says. "You want to set the best example you can for them in every way. You want them to grow up and be proud of you."
From the sound of things, they already have much to be proud of — and grateful for! — when it comes to mom's skills in the kitchen!  With an affinity for "homey" foods — one recent dinner consisted of roast chicken, butternut squash with brown sugar, brown rice and roasted broccoli — Jennifer says that she also whips up a wheat pizza once a week. Her food choices for the girls are carefully planned. She explains,
"When my daughter is the hungriest, that's when I try to have vegetables out for her to snack on while I'm finishing dinner. So I don't start with putting her favorite thing in front of her, I start with putting some snap peas or broccoli with dip or carrots to get her going. I rarely do take-out. I like to be in charge of what we eat. I'm a control freak that way!"
As for her advice for other working moms, Jennifer says rely on others for help "wherever you can" and "don't guilt yourself" because "it doesn't help." She also recommends that you let the dishes wait!
"Do anything you can to try to save time with the dumb stuff around the house so you can be with your kids as much as you can. And put your BlackBerry down and just be with them."
If her transition to life as a mom-of-two appears seamless, Jennifer says it is her former show Alias that deserves the credit. Shooting the series acclimated her to both a lack of sleep and the notion of giving her all — each and every day. "Everybody talked about how hard the sleep thing was with babies and I thought, 'Oh this isn't that bad,'" she admits. "You're sleeping some!"
The "never-ending" side of motherhood can be "harsh," however, she notes. "There's never a weekend or there's never a night [off]…On Alias, at least I had to stay in shape for my job so it was just part of my day no matter what," she points out. "Now finding that hour for myself is much harder to find; I have to do it before they're awake."
When she is in need of a sympathetic ear or some sage advice, Jennifer says she often turns to her mom. "She always says, 'Happiness is your own responsibility,'" Jennifer reveals, "And she always says, 'Weeping may last through the night, but joy comes in the morning.'" Noting that "most of our little bites of advice as kids came from either Little House on the Prairie or Anne of Green Gables," Jennifer says that her mother also led by example.
"My mom was really vigorous about making sure that we saw things and that we questioned things. Education was so important to both of my parents. My mom grew up in poverty in Oklahoma — like Dust Bowl, nine people in one room kind of place — and the way she got out of poverty was through education. My dad grew up without a dad, with very little and he also made his way out through education."
So inspired by their success was Jennifer, it motivated her to sign on as an ambassador for Save The Children. "[Education has] always been emphasized in my house," she explains. "There's so much missed opportunity with all of these kids all across the country who aren't getting what they need to do well in school and once you don't do well in school you don't want to go to school. So it's a cycle in our country that's very sobering." She adds,
"I have always been drawn to child-related causes. I find that people listen to me more when I advocate for children now that I have my own. We all have a responsibility to volunteer somewhere and I'm lucky that I get the education and get taken to places to see what's out there and see what's happening and to then be a part of it in hopefully an impactful way."
Jennifer's new movie — The Invention of Lying — is in theaters October 2nd.
Source: PARADE
— Missy