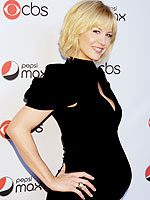 Gregg DeGuire/PictureGroup
Much has been made of a pregnant Jenna Elfman portraying an expectant mom onscreen in the new sitcom Accidentally on Purpose, and while the timing was great, it wasn't quite perfect. So says the 37-year-old actress in a new interview with USA Today, revealing that she and husband Bodhi Elfman intended to conceive their baby-on-the-way in August so that Jenna's belly would match-up with that of her fictional character.
"Yeah, we had one wonderful evening in June," she concedes with a laugh. "It was, um, really romantic. So there you go!"
Although her real-life bump is a bit too large for the story — producers are shooting around it, for now — Jenna says that other aspects of the show ring true, like that of a woman who puts off starting a family in order to focus on her job. "I was 35 when I got pregnant with [son] Story [Elias, 2]," she points out. "I was 36 when he was born."
"It wasn't for lack of a spouse or partner. I was just focusing on my career, and I think a lot of women are focusing so much on their career that they're not finding a man to have a child with."
Now that she has both — a growing family, and a new show — Jenna admits that there is a big adjustment underway for mother and son, but she is optimistic that she can make it all work. "Today was a crazy day. I got done early, and I ran home and I got to be with my boy, who just woke up from his nap," she says. "It was almost going to be nothing for the day, which never happens unless I'm out of town."
"Right now I can bring him to the set. I just try and figure it out every day and I make it my priority. Where there's a will, there is a way. And a mother's intention is strong. I know mine is!"
Accidentally on Purpose airs Mondays at 8:30 p.m. on CBS.
Source: USA Today
– Missy