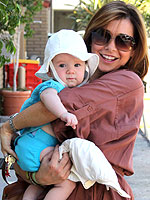 Kevin Perkins/Pacific Coast News
When it comes to returning to pre-baby form, like millions of other moms How I Met Your Mother star Alyson Hannigan credits breastfeeding. The 35-year-old actress is so impressed, in a new video for PEOPLE TV, she jokes that nursing even factors into her long-term weight maintenance plans.
"I know it's a cliché, but I was eating just ridiculous amounts of food but still losing weight," she notes. "I think I should just keep breastfeeding until she's 18." She adds,
"Is that weird? [If I] just keep pumping? No, I'm not going to do that. That was a joke. Please don't send letters!"
Since returning to the set of the hit CBS show Alyson has developed a newfound appreciation for the push and pull of working motherhood. "I am a busy mom….it's amazing how you have to sort of juggle things more than you did before the baby," she says.
At the same time, she's cognizant of how unique her own circumstances are — and grateful for them, as well.
"We have a nursery on set. My baby gets to come with me every day, and her daddy is there. I'm really fortunate to be able to bring her to work."
Fans of HIMYM's Marshall and Lily shouldn't get their hopes up that the fictional characters will also become parents, however, Alyson adds. "The show revolves around the five of them in a bar," she notes. "[A baby] kind of would cramp the style."
Alyson and her husband of nearly six years Alexis Denisof are parents to Satyana, 6 months.
– Missy