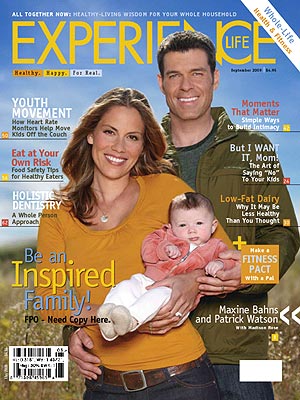 Courtesy Experience Life
A veteran triathlete — she has competed in over 30, including the 2001 Hawaii Ironman — no one was more surprised than Maxine Bahns herself when she stopped training and watching what she ate following the birth of her daughter, Madison Rose, in March.
In the September issue of Experience Life magazine, the actress reveals that adjusting to the needs of a newborn left her with little time for much else, including cooking.
"My husband [Patrick] for some crazy reason, loves Top Ramen, and I normally would never, ever eat that, but it was the only thing in the cupboard," she says.
Fortunately, it didn't take Maxine long to realize the effects her unhealthy habits were having on her body.
"My fall off the health wagon was short-lived," she reports. "When I started exercising and eating clean again, I looked and felt so much better."
While a physically fit Maxine — who believes that her dedication to prenatal yoga led to her 20-minute delivery — Patrick and 6-month-old Madison have settled into their routine as a family of three, the Mentalist actress admits it hasn't all been smooth sailing.
Once free to go as they pleased, the reality of life with baby was a hard hit for the couple. Says Patrick,
"At 39, I was so used to doing whatever the heck I wanted, whenever I wanted. Having a child totally shifted our priorities — now you just tend to her whenever she needs you."
Click below to learn how hiring help has been key to keeping Maxine and Patrick's relationship alive.

With the addition of a part-time nanny to care for their daughter, both Maxine and Patrick have regained a bit of their freedom. For the new mama, time spent away from her family is, more often than not, time dedicated to her career, while Patrick enjoys the ability to train with a local road-cycling team. "I love my job, and though the help is minimal, it's enough to let me go to castings, take a meeting here and there, and to work out," she says.
According to the 38-year-old, the key to their happiness has been finding a balance that suits all.
"Pat and I have really made a concerted effort to spend time alone together, to spend a lot of time as a family and to check in. A happy couple equals a happy baby. I know that Madison picks up on our energy, so it's important that we communicate and are just very supportive of one another."
Not unlike most parents, despite their hopes that Madison will follow in their footsteps when it comes to a physically fit lifestyle, the couple plan to encourage her to seek happiness. "I would really love it if she was athletic," she explains. "But mostly I just want her to do what makes her happy, and to be a good person — kind, loving, compassionate, and honest."
Source: Experience Life
– Anya
Maxine wears a custom necklace from Isabelle Grace Jewelry, gifted to her in Jewels and Pinstripes New Girls in Tinseltown Baby Bag.
CBB Readers: Receive 15% off your purchase using code JP15 at checkout.