Drea de Matteo Wants Another Baby – Soon!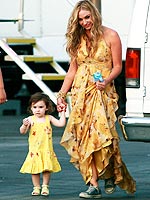 Flynet
Almost every mom — at some point — believes her baby is brilliant and Drea de Matteo is certainly no exception. Calling 22-month-old Alabama Gypsyrose her "idol," Drea tells USA Today says that baby girl is "wild" and "amazing," and one to watch as she gets older!
"People think I'm crazy, but I really do believe I might have made the most important human being alive," the 37-year-old actress jokes. "Her personality is unbelievable, and she's so smart." So impressed is Drea, she's ready to do it again!
"I have to make another baby fast. I have to make another one in like two months. I just need to have a baby a year. I'm old, so I need to work fast."
First things first, however, and next up for Drea is a turn on Desperate Housewives. The role has her in somewhat familiar territory — playing a "brassy Italian chick," as she did for five seasons on The Sopranos — but those who are looking for a reprisal of her performance on the legendary HBO series will be disappointed.
"This character sounds like Adriana but she's nothing like her in looks," Drea notes. "I have a baby now, so they had better not put me in the sexy clothes!"
As she settles into her new digs Drea says she's been enjoying lots of on-set visits from Alabama, who is "back and forth and crazy and coloring all over the place."
"This week, I'm bringing her here because I feel like I haven't had a chance to see her. This is a perfect job. I work maybe three days a week. I'm really lazy."
Alabama is Drea's daughter with fiancé Shooter Jennings.
Source: USA Today
— Missy