Eric Carle's Kinder-Ready: Games For The Grocery Store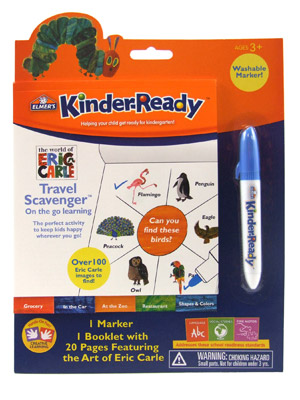 Travel Scavenger
Eric Carle, the author and illustrator of The Very Hungry Caterpillar, has illustrated a beautiful line of learning games called Kinder-Ready.
The clever Travel Scavenger set ($10) is a little paper pad that comes with a washable marker. Take this along to the grocery store and your little one can find the baked goods that match Carle's cute illustration of cherry pie. It also has sections for in the car, at the zoo or at a restaurant. This is a brilliant idea for keeping my 4-year-old son, Finn busy while we wait for his food to come! I just wish it was reusable.The ink washes off of kids, but doesn't wash off of the paper.
The Kinder-Ready Alphabet Clue Cards ($10) challenge kids to match the two halves of the illustration and put them together like puzzle pieces. Each piece has an upper case or lower case letter that the kids can join to complete the picture. We always bring puzzles for hotel-room entertainment and this one's a hit.
Carle's illustrations are artistic and timeless and the sets are great for beefing up skills like letter identification and matching when you're on the go.
— Kristen, NJ mama to energetic 1 and 4 year old boys, loves hot designer goods (but appreciates a good bargain even more) and believes strollers should come with cup holders and toys should have volume controls