Rebecca Romijn Enjoying Her 'Clingy' Twin Girls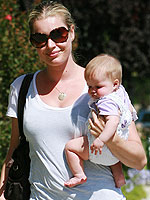 Sam Sharma/Pacific Coast News
The roles of primary caregiver have been reversed in the Romijn-O'Connell household, and mom Rebecca Romijn says there is at least one advantage to being the less-familiar face for twins Dolly Rebecca Rose and Charlie Tamara Tulip, 9 months next week.
"I was with them right up until they were six months, which is when we started shooting [Eastwick], and I felt like they kind of took me for granted a little bit," Rebecca explains to Starpulse. "[Dad] Jerry [O'Connell] would walk in, and they'd be like 'Ahhhh.'"
"They never even noticed that it was me with them the whole time. Now that I'm not there as many hours during the day, they're pretty clingy and I have to say I love it. It's the best feeling in the world."
The girls have their own respective twins in mom and dad, Rebecca says. "One looks just like Jerry, one looks just like me….I mean, and our baby pictures, if we compare our baby pictures with each other, they're identical," she reveals. Both are also crawling, as well as teething — serendipitous timing, as Rebecca reveals that at the time of the interview, she had stopped nursing just three weeks before. "And yes, I was a milk machine," she adds. "I felt like that's all I was to them, just this walking milk machine."
While some women find that weaning allows them to lose the remainder of their baby weight, Rebecca says she hasn't been so lucky. "The weight that I gained when I was pregnant felt very natural, [and] losing it was very natural but I still have a ways to go," she concedes. "How I'll lose the rest of it, I don't know…Those last 10 pounds, man, they're a doozy."
The 36-year-old actress admits, however, that her impressive near-return to pre-baby form was not entirely her idea. Instead, she says that her diet and workout regimen were necessitated by "the business," noting that her "own vanity" made watching the pilot of Eastwick "difficult."
"I was like, 'Oh my God, that looks like a lady who just had babies'…If it was just me, I have a way more important job at home with these babies. The pressure of losing weight like that would not be there at all."
As for other new moms, Rebecca says to take things one day at a time. "Repeat this mantra: It's only temporary," she advises. "This too shall pass. That's gotten me through every single stage of every single day that I've had so far with these girls."
Rebecca's new series Eastwick airs Wednesdays at 10 p.m. on ABC.
Source: Starpulse
— Missy