Caught Caring: Victoria Beckham, Stephen Webster and Malaria No More
Every 30 seconds a child in Africa dies of malaria, and those who survive are often left learning disabled or — worse — suffering from permanent brain damage. That malaria is 100% preventable and treatable, yet still kills 3,000 children each day, led to the formation of Malaria No More (MNM) in 2006.
A UK-based organization which advocates a comprehensive approach to eradicating the mosquito-borne illness, MNM recently commissioned UK jewelry designer Stephen Webster to create a one-of-a-kind ring in support of the cause.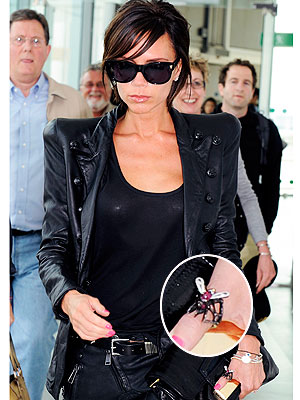 David Dyson/Camera Press/Retna
Already on board? Mom-of-three Victoria Beckham, a fashion designer herself, who was recently spotted out-and-about wearing the "mosquito ring." She explains,
"It's a fabulous statement piece and I've loved wearing it, it's inspiring to see designers like Stephen working the power of fashion to save lives."
Noting that "malaria is such an important issue, killing more children under five in Africa than any other single disease," Victoria went on to add, "I'm crossing my fingers this collaboration will generate loads of buzz."
Her ring is made of rhodium plated white gold set with ruby cabochons, white diamond wings, a silver diamond tail and a black diamond band. Retailing for just under $25,000, it will be auctioned off by MNM with all proceeds from the highest bid going to the charity.
Find out how to get your own replica ring below.

Three hundred limited edition replica rings — designed to reflect the look of the original — are to be sold exclusively through ASOS.com in October.
Buyers will have a choice of two designs: black rhodium or white rhodium plated, both with crystal encrusted wings. The replica rings will retail for $82 each with all proceeds going to MNM.
MNM has coordinated the distribution of over 1 million mosquito bed nets throughout Africa. Purchasing a replica ring will generate sufficient funds to buy up to 10 nets, protecting as many as 20 people for five years, the charity estimates.
If the ring is out of your price range, a $10 donation buys a single mosquito net, a child and their family while they sleep — a time when mosquitoes are most likely to bite.
To purchase a net or learn of other ways to contribute, click here.
Victoria is mom to Brooklyn Joseph, 10 ½, Romeo James, 7, and Cruz David, 4 ½, with husband David Beckham.
— Missy