Jenna Elfman and Ashley Jensen Have Babies on the Brain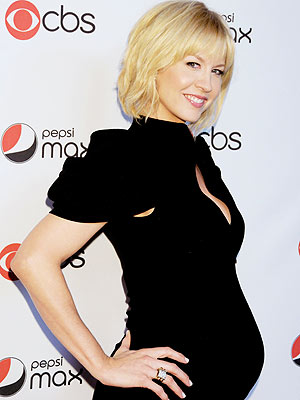 Gregg DeGuire/PictureGroup
The new CBS sitcom Accidentally On Purpose already has babies on the brain, and now its stars Jenna Elfman and Ashley Jensen are both expecting in real life, with veteran mom Jenna sharing pregnancy tips with her costar and introducing her to the concept of baby showers.
The new series — which centers around a thirtysomething career woman getting pregnant after a rendezvous with a twentysomething fella — is taking two different approaches with its leading ladies.
Since Jenna's character is pregnant onscreen, she gets to show her bump, while Ashley's is being hidden by strategic use of camera angles and props.
Jenna, who's just entered her second trimester, tells PEOPLE she saw a window to have baby no. 2 (she and husband Bodhi Elfman are parents to 2-year-old son Story Elias) while still working.
"It was like an afterthought perk. I thought, 'Well, if the show gets picked up that could be cool. I can have my next kid and I won't have to hide it.' You know, I'm not in my early twenties so I got to get busy."
The former Dharma & Greg star, 37, said her producers took the news of her lucky timing well.
"I had to tell them pretty early on because they were trying to schedule me to get the belly prosthetic. I didn't want to waste the production money. I was like 'So guys, listen, here's the deal: I'm pregnant.' They were like 'Okay then – thanks for telling us!'"
Click below to read about Ashley's pregnancy, who's finding out the sex and who isn't, and Ashley's baby shower.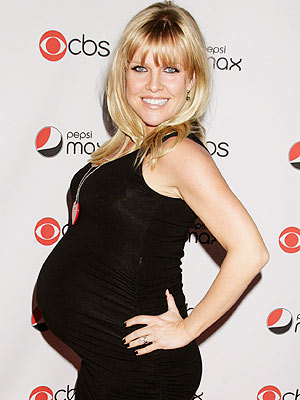 Francis Specker /Landov
Ashley's condition, on the other hand, necessitated some old school creative trickery.
"I've given the crew an extra little challenge in trying to hide me," said the actress, who's expecting her first child with husband Terence Beesley in October.
"I spend quite a lot of time behind cake stands, and bunches of flowers, newspapers, and large purses and things."
As a first-time mom, the former Ugly Betty star said she turns to Jenna for advice "on a daily basis. 'What do you do about this? What do you do about that?' I had never heard of the concept of a wet wipe warmer. Also we talked about 'Do you remember things like your brain melting at this stage in your pregnancy?' She's like 'Oh yeah! You never get it back. That's it – it's gone forever now.'"
Jenna was happy to dispense tips.
"When you've had a kid and you're friends with someone who is going through it for the first time, it's good to give them some guidance," she said, even though this pregnancy's slightly different that the first: "I did have nausea this time – I didn't the first time."
They're also both doing their best to keep fit. Ashley said she's been lucky her cravings have been limited to "fruit like a crazy women. At least that's not like burritos or something. It's quite a healthy craving to have."
However, she admits she hasn't been uber-intense on the exercise front. "I'm a bit terrible with exercise. I am full of all sorts of good intentions. I'm trying to do some pregnancy yoga but I always find I need to be doing something else. Doing the dishes, or taking the dog for a walk. I should probably do the yoga."
Jenna's shown a bit more discipline. "I walk on the treadmill as much as I can, like four times a week with the production schedule and raising a two year old," she said. "I had to actually put a treadmill in my dressing room at work. So if I have a ten-minute break I'll just hop on it for ten minutes just so I'm staying moving. It's very important to stay moving when you're pregnant. Then I have some free weights here and there. Nothing outlandish."
Neither star knows the sex of their baby just yet. Jenna will learn before giving birth in March ("I want to know, because if it's a girl I need to get clothes!" she laughed), but Ashley wants to wait ("There are so few surprises like that in life that we just figured we wanted the surprise," she said).
Another surprise to Ashley, 40, was the concept of the baby shower, which isn't a tradition in her native UK.
"Jenna was like 'You have got to be kidding me. Well, that's got to end. We've got to have a baby shower," said the actress. "So we had a baby shower last week. She sorted me out and took me to the store. She told me what I needed. 'You've got to get one of these, you've got to get one of these.' I'm a novice – I don't know!"
"I hosted her baby shower," said Jenna. "I was like 'Oh no, it's great. You get the whole day, all your friends involved. Everyone gets to share in it and they buy you presents. It's grand.'"
Ashley admits she enjoying getting more mommyhood tips from her celebrity gal pals, including her Ugly Betty co-stars. "Rebecca Romijn sent me a body pillow, because I had spoken to her. She of course herself has just had twins. She said 'This is what you've got to get,' so she sent me one. Ana Ortiz is another friend that has just had a baby as well. So I've got quite a lot of girls around that I can call on."
– Scott Huver