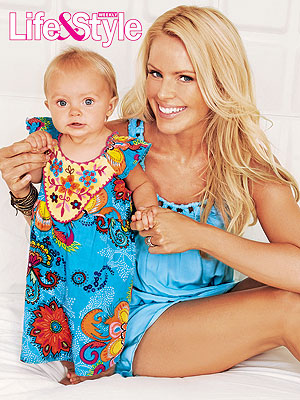 Courtesy Life & Style for use on CBB
In an new interview with Life & Style, Gena Lee Nolin, 37, opens up for the first time about her long struggle with postpartum depression (PPD).
"It's a roller coaster of emotion," she says. "It's so intense and comes on so quickly. Your hormones are completely out of whack."
Unfortunately, the feelings of despair that came with her third delivery — daughter Stella Monroe arrived last December — were painfully familiar: Gena had experienced PPD following the birth of her sons, Spencer, 12, and Hudson Lee, 3.
"It was really hard with the first one because I didn't see it coming," Gena explains. "I couldn't figure out why I was so sad when I had this beautiful, healthy baby and a great job. Baywatch was the No. 1 show in the world at that time. I had nothing to be upset about. I thought I was nuts."
But when her uncontrollable crying didn't stop after six months, Gena, who was married to Greg Fahlman at the time, knew she needed help. So the actress sought guidance from a counselor and spent seven months on a low dose of antidepressants.
Click below to read about Gena's struggle with PPD after her subsequent pregnancies.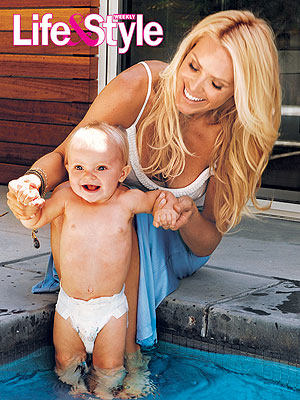 Courtesy Life & Style for use on CBB
By 2005 she'd put the harrowing experience behind her and welcomed Hudson with her husband, NHL player Cale Hulse, the following year.
"Going into the second pregnancy, I didn't think the PPD would be as bad — I was euphoric," says Gena. "But it was my worst case. I didn't want to get out of bed, and I would cry with no idea what I was crying about. I was put on meds immediately."
The couple were prepared when Stella arrived. Gena quickly found counseling and was prescribed medicine that was safe to take even while breastfeeding.
She also decided to overhaul her diet-and-fitness regimen. Trainer Michael Nelson gave Gena a list of exercises catering to her body type: She did core work like planks and sit-ups, hit the treadmill and lifted hand weights four to five days a week.
During that time, Gena steered clear of dairy and wheat, opting for five meals a day of healthy fare such as leafy salads and fresh fish, and soon saw her weight drop from about 195 pounds to 130.
"The healthy lifestyle helped me on the inside," says Gena.
Now, having beaten her third case of PPD and with her family complete, Gena's penning a book about her experiences to help other struggling moms.
"Allow yourself to have the feelings you're having," she advises. "Get help. Reach out. Don't be hard on yourself."
For more on Gena's experience with PPD, pick up the latest issue of Life & Style, on newsstands now.