Matt Damon on Moving Family to New York City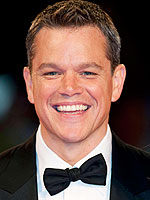 Alpha/Landov
Although Matt Damon only recently relocated his family-of-five — including wife Luciana and their three daughters — from Miami to New York City, he is already considering a move to California. But closer proximity to the movie industry is not what appeals to the 38-year-old actor; Instead, he tells USA Today that he'd like to be closer to good friend Ben Affleck, and Ben's daughters Violet Anne, 3 ½, and Seraphina Rose Elizabeth, 8 months.
"We each have two girls within six months of each other. It's a strong argument to buy a house there and be near Ben."
For now, Matt says he will stay put and "see how the little kids do" in the big city over the coming months. "If the winter is too tough," he muses, "we might move to L.A…all my friends with kids live there."
The weather might not be the only thing that deters the Damons from making New York their permanent residence, however. Matt credits their time spent in Miami as the reason the girls have seen so little paparazzi exposure. "It will be interesting to see what happens now that we're in New York," he notes before adding,
"Lucy is not a celebrity, and that really helps. Tabloids sell sex and scandal, and the narrative for me is that he's married to a normal woman and has got three kids and is kind of quiet. So as long as I don't do anything stupid…"
Matt and Lucy are parents to Gia Zavala, 13 months, Isabella, 3, and Alexia, 11, Lucy's daughter from her first marriage. Violet and Seraphina are Ben's daughters with wife Jennifer Garner. Matt's new film The Informant! is in theaters now.
Source: USA Today
— Missy