Dancing Dad Tony Dovolani Heads Back to the Ballroom
For Tony Dovolani, this month not only marked the start of a new season of Dancing With the Stars, it meant celebrating two milestones. His twins Adrian and Ariana turned one on September 8th, and that same day, he took his older daughter, Luana, to her first day of preschool.
How did the hunky Dancing With the Stars pro handle the big events?
"I cried my eyes out. I'm a weeper," Tony, 36, confesses to Celebrity Baby Blog. "I may look like I'm hard, but I'm not."
The twins' first birthday was a small fête with his wife, Lina, and their family in attendance. The fun part of the day was lighting candles on a Diego and Dora the Explorer themed cake for the kids. The not-so-fun part? The twins' first-year checkup.
"All they got for their birthday was two vaccines each," he says, laughing. "They cried and I cried along with them. But they were good afterwards."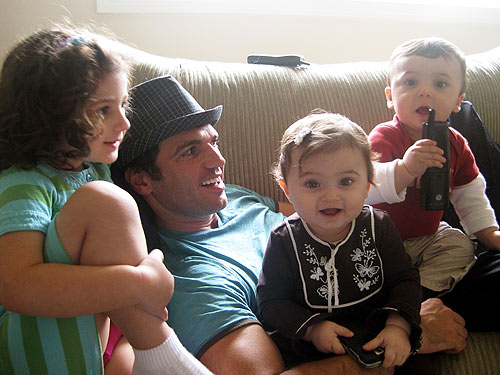 Tony relaxing at the family's Connecticut home with Luana, 4, and twins Ariana and Adrian, 1 — Courtesy Tony Dovolani for use on CBB
The twins' personalities have started to emerge, the dance champ says. "My son, Adrian, is incredibly cool and calm. And Ariana is feisty, as I want her to be, taking after her big sister a bit. They are starting to walk with help. They take a step or two and we go 'yay!'"
And when Daddy sent 4-year-old Luana off to preschool the first day, he was impressed with how un-traumatic the event was for her.
"It's six hours each day, two days a week and I'm thinking, 'Man, that's a long day.' But my wife reminded me she's used to going on planes, traveling to see me in L.A., so she's kind of worldly," Tony says. "I went in there and the other kids were crying and she was like, 'Okay, see you later.' She was so cool about it. I love that my girl has such a strong personality and she can be so firm on her feet even at four years old."
As for Tony, he was a mess. "I went to the car and cried and cried. My wife was going, 'Will you get a hold of yourself?'"
Dancing With the Stars premieres tonight at 8 p.m. EST on ABC. Tony is partnered with Kathy Ireland.
— Monica Rizzo
Click below for a photo of Luana heading off to school, as well as all three kids playing together.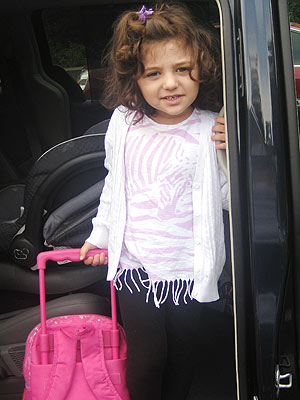 Luana wheels her backpack on the way to her first day of preschool — Courtesy Tony Dovolani for use on CBB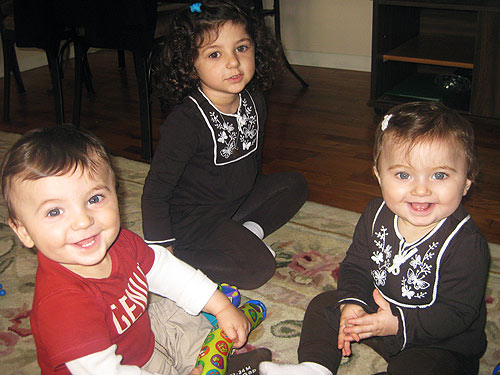 Adrian, Luana and Ariana play together at the family's Connecticut home. — Courtesy Tony Dovolani for use on CBB
Ariana wears Ladybugs and Lullabies' double flower Rowan hair clip (crochet series) in white ($5.49-$5.99).
CBB Readers: Receive 20% off your Ladybugs and Lullabies order using code JP20 at checkout!