Heidi Klum's Emmy Dress: I Can Let It All Hang Out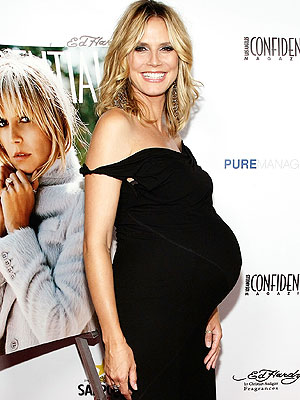 Noel Vasquez/WireImage
Heidi Klum is ready to do her runway walk down the Emmy red carpet, and — about five weeks away from giving birth to her new daughter — she's thrilled she won't be sucking in her tummy.
"The great thing about being pregnant and going to these things is that I don't have to suck my stomach in," the supermodel and Project Runway host told PEOPLE at Los Angeles Confidential's pre-Emmy party. "It's fabulous! I can let it all out."
Heidi, who's nominated as Outstanding Host for a Reality or Reality-Competition Program, revealed that she'll be wearing a Marchesa gown designed especially for her by Georgina Chapman at the model's request.
She said she hasn't put too much thought into prepping around her pregnancy for the big day.
"It wasn't really hard for me, but it was hard for the woman that designed a dress for me," she laughed about going glam with the baby on board.
"She started about two or three months ago and that's kind of difficult…It's black because I figure, at eight-and-a-half months, black is better! I think it's elegant and slimming."
Click below to read about Heidi's active baby girl and her return to the runway.

Heidi says she's savoring every moment of her fourth pregnancy, which she and husband Seal have decided will be her last.
"Even though I've done it three times you do forget certain things," she said. "She's really, really active. Sometimes we lay in bed at night and my husband puts his hand on my stomach and she's going crazy in there! He's like 'How do you sleep with all of this going on?'" she laughed. "But for me it's the most calming thing because I know she's okay. So as long as the baby is moving, I'm fine. He's like 'This is crazy,' because she's bumping up and down and doing all this crazy stuff, but for me it's calming."
As far as returning to those tummy-sucking-in days, Heidi says she doesn't have any target date to have her famous body ready for bikini and lingerie shoots.
"I was asked by Victoria's Secret if it is possible, if I'm going to make it to their show," she said. "You never know how you are afterwards, so you kind of have to play it by ear and see what happens. So far — knock on wood — everything was always great. I felt great afterwards and I loved every minute of it, even the sleepless nights of getting up every two hours. But let's see what happens. You can't put all that pressure on yourself. "
— Scott Huver