Clive Owen Opens Up About Playing a Dad Onscreen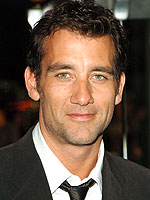 Jon Furniss/WireImage
In his new film The Boys Are Back, Clive Owen — a father-of-two in real life — plays a parent onscreen, a role he says was long overdue.
"It felt like I was exploring a big part of my life that I haven't explored in my work before," the 44-year-old actor noted shortly before the film premiered this week at the Toronto International Film Festival. "I am a parent of two girls and I've always seen that as very separate. I go off and make movies and the rest of the time I'm a parent. And this was a script exploring all that world."
Although the subject matter was at times dark — Clive portrays a widower raising his two sons — the contrasting parenting styles of moms and dads was nonetheless fun to explore. "A day with dad is inevitably different from a day with mom," Clive notes. "It just is."
"I think that the heavy, nurturing thing that a mother brings to a child is different from a guy. This is taken to the extreme, but there is almost an element of that with dad. I think it's just an instinct thing. We're not as overly protective as mothers are. Sometimes that's not good, but I like that the film is about that, too."
One thing Clive is clearly protective of with daughters Hannah, 12, and Eve, 10, is their movie viewing habits! Most of his films have been off-limits to the girls, prompting him to quip, "They'll have a lot to catch up [on] when they're 18."
Hannah and Eve are Clive's daughters with wife Sarah-Jane Fenton. The Boys Are Back hits theaters September 25th.
Source: Vancouver Sun
— Missy