The Name Game: In Love With L
J names have had their day in the sun: a whole generation of Jennifers and Jessicas, Jasons and Joshuas are now growing up and having babies of their own. Then came the K names popular in the nineties: Kyle, Kayla, Kaitlyn. Next up? The L names. Pamela Redmond-Satran, co-founder of nameberry.com, says that "L is the hottest beginning consonant for babies' names here and throughout Europe." Hotter still are names with a double-L sound like Lila and Tallulah.
There are a litany of celebrity babies born recently with L names in the Luke and Lucy family, which means light. They include Lucia, as chosen by Amber and Rob Mariano; Luciana, as chosen by Carnie Wilson; Lucy, as chosen by Nancy Grace; Luc, as chosen by Peter Gabriel; Luca, as chosen by Vincent D'Onofrio; Luka, as chosen by Tom Colicchio and Luke, as chosen by Natalie Morales.
The letter L is long on variety, however, offering unlimited choices — both traditional and quirky — for parents-to-be. Lindsay Davenport opted for Lauren; Gael Garcia Bernal opted for Lázaro; Matthew McConaughey opted for Levi; Tori Spelling opted for Liam; Erinn Hayes opted for Lilah; Shane Richie opted for Lolita and Constance Marie opted for Luna — a name CBB readers clearly loved!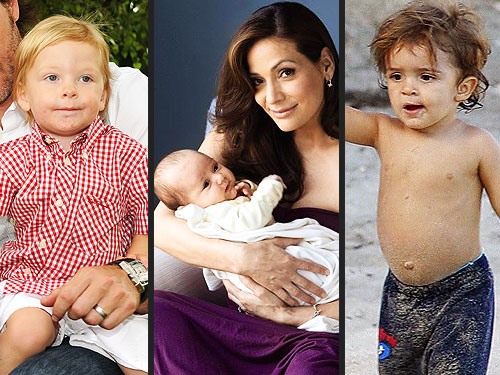 Albert Michael/Startraks; Alison Dyer for PEOPLE for use on CBB; Karl Larsen/INF
Click below to read about the biggest L name trendsetter of all.
L names aren't exactly a new fad, however, and there are plenty of celebrity kids to prove it. Madonna kicked off quite a trend when she named her first child Lourdes, to be nicknamed Lola; Celebrity parents who followed suit include Charlie Sheen and Denise Richards, Kelly Ripa, Chris Rock and Annie Lennox. Other older celebrity children with L names include Brendan Fraser's son Leland, Kate Moss' daughter Lila, Donovan Leitch's daughter Lilac, Julianne Moore's daughter Liv and Saul 'Slash' Hudson's son London.
Pamela also points out that although they don't start with L, celebrities are lending their stamp of approval to names with a double L sound. Both Philip Seymour Hoffman and Damon Dash opted for Tallulah, while Lisa Rinna and Harry Hamlin loved Delilah.
L names are just as popular outside Hollywood's city limits. Logan, Landon, Lily, Lillian, Lauren, Lucy, Leah, Luke, Lucas, Layla and Luis are all in the U.S. Top 100, according to Pamela, who goes on to cite some up-and-coming L names like Leah, Lydia, Leon, Leopold and Lionel. Across the pond L names are also all the rage; Lou, Lilou and Louise are popular in France while Louis and Lewis are currently topping the charts in Great Britain.
So why L? "Partly, because it was time for something new," Pamela explains.
"The J and K sounds had been widely popular for long enough that we needed to focus on a new sound. L is luscious and lovely; it's associated with lots of positive qualities. And it's been long enough since the last L wave, when names such as Lisa and Linda and Lori ruled, that the letter sounds new to us again."
In addition to her work with nameberry.com, Pamela has co-authored ten baby-naming books with Linda Rosenkrantz. Their newest title, Beyond Ava & Aiden, is available now.
— Missy
Which L name do you like the most? The least? Why?