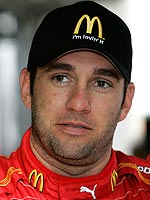 Ai Wire/Matthew T. Thacker/Landov
There's a baby-on-the-way for NASCAR driver Elliott Sadler and his wife Amanda. The 34-year-old Virginia native shared the happy news during an appearance on NASCAR Radio's Sirius Speedway show last Tuesday, revealing that the couple expect their first child together in early March.
"I couldn't be any happier," Elliott said. "Amanda and I want to have a big family with three or four kids, so we figured it was time to get started."
Although they kept the pregnancy a secret initially, the couple "thought it would be special to share the news with friends and family" in the days leading up to the race in Richmond last weekend." Elliott went on to share that the revelation is the first of many for the couples' loved ones.
"[We] have a special plan for sharing the sex of our baby with our families," he explains.
"We are going to have the doctor put the sex of the baby in a envelope and not tell anyone, then take everyone out to dinner and open the envelope as a group so we all share the experience together."
Elliott and Amanda were married in January.
Source: Jayski.com
Thanks to CBB reader Paige.
– Missy