Jenna Elfman Expecting Baby No. 2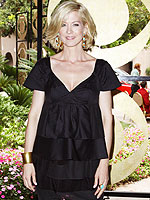 Kevin Brooks/AdMedia
Less than one month after revealing she "definitely" intends to become a mom-of-two, Jenna Elfman is making good on her promise.
During an appearance Wednesday morning on CBS' The Early Show, the Accidentally on Purpose actress, 37, revealed that she is expecting her second child with husband Bodhi Elfman.
"I have a baby in my tummy — but a real one, not just for my TV show," she shared. "My character's pregnant the whole first season, so I said, 'It's a good time to have another baby, because we won't have to hide it.'"
On the show, Jenna plays a woman that becomes pregnant by a much younger one-night stand, who then moves in with her. Eagle-eyed viewers should keep an eye out for her own burgeoning bump, Jenna jokes. "By episode three if you look closely once it airs, you'll see … 'Oh is she a little bloated? Did she have a big dinner?'"
The couple — already parents to 2-year-old Story Elias — were married in 1995.
Accidentally on Purpose premieres Monday, September 21 at 8:30 p.m. on CBS.
Source: The Early Show
Watch Jenna's announcement below!

Thanks to CBB reader Beverly.