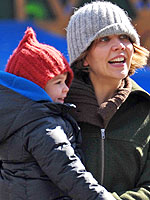 Splash News Online
Raised in a family that promoted female success in the work place, Maggie Gyllenhaal never doubted for a second that she could have both a career and a family. After making a name for herself in Hollywood, Maggie moved on to motherhood — welcoming her first child with Peter Sarsgaard in 2006 — and quickly realized the harsh reality of balancing life as a working mom. "I was brought up to believe I could do anything I wanted professionally and, of course, be a mother at the same time — but I'm finding that it's complicated," she tells Working Mother.
"It requires a lot of thought and planning and I haven't figured it out yet."
Missing out on the day-to-day routine with her daughter Ramona, now 2 ½, often leaves Maggie with a heavy heart. "Now that I have my own daughter, there are definitely times I think, 'Why do I have a job?' Sometimes I fantasize about staying home with Ramona all day, so that I don't miss a thing in this amazing 2-year-old's life," she admits. And while the long days spent on location pull at the actress' heartstrings, Maggie is confident that her decision to continue acting is best for all involved.
"I'm an artist; I love my job. I feel very, very lucky to be in the position where going to work means I'm feeding myself. As a mother, you have to make sure you do that because that will nourish your child too."
With Ramona showing increasing signs of "a real strong, deep connection" with her mama, Maggie can't help but consider any effects her career may have on her child. "She's in the phase of being very attached to me and that makes me wonder all the more whether the inconsistency of my job is difficult for her," she explains. "I think that if she were able to know, for example, that every day after breakfast I will leave for work, and every day after her nap I will be home from work, it would be a lot easier for her."
While Maggie has made a conscious effort to limit her roles to ones that "justify being away from [Ramona] all day," she and Peter recognize the fact that their growing daughter is in need of a consistent routine. "I find that the older Ramona gets, the more comfortable she is when she's in her own bed…when she sees the same people every day," she says. To that end, the couple recently enrolled their toddler in preschool — a task that Maggie never envisioned would take so much effort on her part!
"I'd say I spent all of last fall researching which schools I wanted to apply to for her. I put more energy into that than almost anything I can think of recently."
Click below to learn about "the luxury" her own mother Naomi gave Maggie recently.

Fortunately, Maggie is not juggling all the pieces alone; She relies heavily on both Peter and her own mother, who has been a "huge help" in raising Ramona. "She came to take care of Ramona while I worked on a movie recently," Maggie shares. "She stayed for a couple of weeks and she was unbelievable, an absolute lifesaver."
Having raised Maggie and her brother, actor Jake Gyllenhaal while nurturing her own career as a writer/director, Naomi Foner Gyllenhaal is no stranger to the demands of motherhood. "She told me, 'I want to give you something I never had. I want to give you the luxury of knowing that your child is absolutely safe and being cared for and loved so that you can go do what you need to do and be totally free,'" reveals Maggie.
"She gave me that couple of weeks and I needed it so badly. I needed to go and do something for myself."
Determined to seek a balance fit for both mama and baby, Maggie hopes her efforts will not go unnoticed by Ramona. "It's important for children to know that their parents are fulfilled, expressing themselves, and happy in their own lives," she says.
"I want to give my daughter the same gift that my mom and my grandmother gave to me, which is the knowledge that, as a woman, I can do anything professionally and personally. I have everything open to me. But that doesn't mean it's going to be easy. I continue to make lots of sacrifices to make sure my daughter feels comfortable, or at least as comfortable as she can. But I can't and don't pretend I have it down."
Source: Working Mother
– Anya