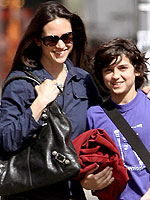 Freddie Baez/Startraks
Although the new film 9 is animated, parents expecting to see the next Finding Nemo will instead find themselves exiting the theater in a hurry! "I think it is too dark for young kids," star Jennifer Connelly tells PARADE. "My younger son [Stellan] is six and I think it is too frightening for him; My older son [Kai] is 12 and he has seen it and loves it."
Admitting that she doesn't "really know what the cutoff is," Jennifer goes on to note, "I think kids have been to a lot of action movies set in a post-apocalyptic world that probably had more violence than 9 and weren't animated."
In her own private life, Jennifer says she wouldn't characterize herself as "being particularly vicious or aggressive" but  — at the same time — if the circumstances called for it, Jennifer could produce! She elaborates,
"Now that I'm a mother, I can relate a little more to things like women lifting a car off their kid or whatever. If there were a car on top of my baby, I'm going to try to move it for sure."
Fresh off a much-needed vacation, Jennifer admits that "much to the chagrin" of her sons and husband Paul Bettany she can be "really obsessive about work." Fortunately, the job she often finds so demanding can also be quite rewarding. "That's what you get as an actor, you have periods where it's really busy and then periods where you're blessed to have the luxury of that much time off as a family."
Kai is Jennifer's son with ex-boyfriend David Dugan, while Stellan is her son with husband Paul.
9 is now showing nationwide.
Source: PARADE
– Missy