Amanda Beard Welcomes Son Blaise Ray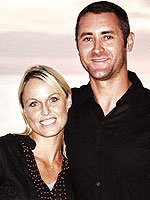 Courtesy Sacha Brown
She's won seven Olympic medals for her talents in the pool, and now Amanda Beard can add a new title to her collection: Mom. The swimmer welcomed son Blaise Ray Brown at 10:54 a.m. on Tuesday, September 15th, she tells PEOPLE exclusively. He weighed in at 7 lbs., 12 oz and is 19 ¾ inches long.
"I was in labor for about 16 hours and it was all worth it. He is happy and healthy and everything went as planned," Amanda shares. "It was the most amazing experience that Sacha and I have ever experienced! We are so happy to be new parents! This is gonna be the best adventure ever."
Blaise is the first child for Amanda and her husband Sacha Brown, a photographer, who wed in May in Maui. The swimmer plans to be back in the water in six months, and is aiming to compete in the 2012 Olympics.
Amanda, 27, announced the pregnancy and sex of the baby in June. Her due date would have been tomorrow.