U.S. Open Champ Kim Clijsters: 'Anything is Possible'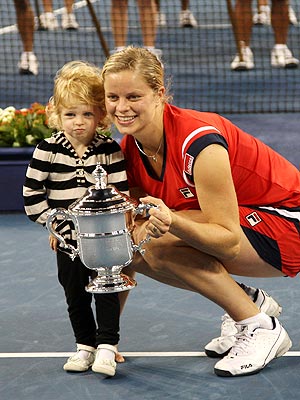 Juan Soliz/Pacific Coast News
When Belgian Kim Clijsters defeated Caroline Wozniacki last night to claim the women's singles trophy at the U.S. Open, she became the first mom to emerge victorious at a Grand Slam event in 29 years.
The historic significance of the win was not lost on the 26-year-old former World No. 1, mom to 18-month-old Jada Ellie.
"I hope that I can inspire a lot of other women who are willing, or hoping, to [return to work] but maybe don't know the way to start or are insecure about starting," she told CNN after the match.
Kim was quick to point out, however, that she couldn't have achieved her new-found success without the support of husband Brian Lynch and others.
"I really believe anything is possible but it is a family affair. I also need help from family and people around me but it's a great feeling to know that I can combine the sport that I love but also be a mum as well — it's great."
Having only recently emerged from retirement — the tournament in Flushing Meadows was just her third tournament after a two year hiatus — Kim admitted that the results exceeded her wildest expectations.
When she stepped away from the sport due to nagging injuries in 2007, she says that she considered the move permanent.
"[Coming back] wasn't something I was planning on doing," she said, "but obviously I have done well and obviously it is a great feeling to have."
"During those two years off I maybe hit the ball two or three times and a few practice sessions with my friends – in fact it wasn't even practice it was just fooling around. So to be in that position to decide that I wanted to do more than play exhibition matches was a big decision to have to be made, but right now it definitely feels like the best decision."
Source: CNN
— Missy
See a second photo below!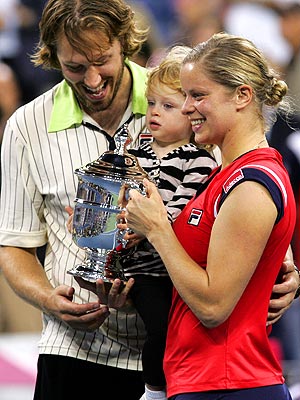 Art Seitz/Splash News Online