Matt Damon Has 'Testosterone Deficient' Home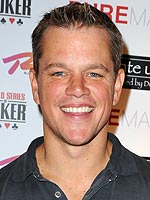 Hot Shots Worldwide/Splash News Online
As the only male in a household of four females, Matt Damon's life is filled with love and fairy princesses.
"I call it the 'testosterone deficit.' But I'm happy with that," Matt told PEOPLE at the premiere of The Informant! at the Toronto International Film Festival of his home life. "I love my girls and it's lot of pink, a lot of princesses and a lot of fun."
With his bachelor days behind him, Matt, 38, and his wife, Luciana, are in domestic bliss, celebrating special milestones in the lives of their daughters: Gia Zavala, 13 months, Isabella, 3, and Alexia, 11.
"Gia is just ready to start talking and making sounds," said the proud papa. "It's been really exciting and we are anxious to hear what she says."
The budding linguist, however, already is a skilled walker. "She's been walking since nine months, which is pretty incredible," he said.
Gia's big sister Isabella is getting ready to attend preschool — possibly leaving the star in tears. "I think I will get emotional when we take her. Her mom and I will probably be a big mess. She's ready but I don't know if I will be."
As for his oldest, Alexia, she has been thoroughly entertained by the Oscar winner's transformation of gaining 30 lbs. in order to play his new role in the black comedy The Informant! "She had fun with it by squeezing all the soft squishy parts and called me 'Fatty Matty,'" Matt said with a laugh.
In fact, some believed Matt's pudgy physique was an upgrade over his normal weight. "Every day people would come down to watch us shoot and invariably somebody would say, 'Wow you are so much better looking in person,'" the star told PEOPLE at the film's press conference Friday afternoon. And I said, 'thank you.' But I really did wonder, was it the wig, the mustache, the 30 lbs. and the fake nose, or maybe the wardrobe that helped?"
And what did Luciana think of her husband's extreme transformation? "She was a good sport about it. There was just more of me to love. I loved parading around with my belly."
The Informant! hits theaters Friday.
— Paul Chi