Kendra Wilkinson Celebrates the 'Home Stretch' of Pregnancy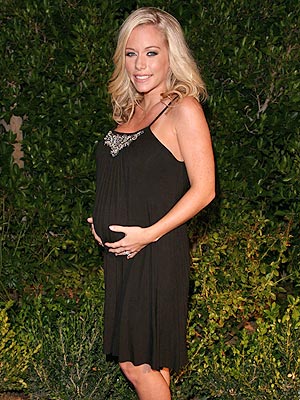 Kiley Bishop/London Ent/Splash News Online
The finish line is inching closer and closer for Kendra Wilkinson, who later this month will enter the third trimester of her first pregnancy.
"I'm in the home stretch," the 24-year-old reality television star noted to Celebrity Baby Blog on Saturday. "It's really uncomfortable."
To that end, she said that the trip to California to attend both her baby shower and this weekend's Brent Shapiro Foundation Summer Spectacular would be her final visit until she delivers son Hank Baskett IV, due Christmas Day.
"I'm going home [to Philadelphia] on Monday…and it will be my last time," Kendra explains. "I get up [on the airplane], like, every 30 minutes and I have to pee and walk around."
Appearing at the event — which raises awareness of drug and alcohol addiction — was worth the discomfort, however.
"It's good to bring awareness," she noted before adding,
"That's what I'm all about lately. I don't want to just go to a party, I want to actually stand for something. It's just unfortunate that this had to happen, but I hope this helps other people."
Craving peanut butter waffles — "my mouth just waters," she says — Kendra concedes that she's indulged a retail craving or two along the way. "I got him cute little cowboy boots," she explains. "And just a swing…I really wanted a swing."
As she puts her purchases away in the nursery, husband Hank Baskett can often be found close by doing his best to bond with his namesake. Kendra reveals,
"He reads to the baby, little children's books…and then he puts headphones on my belly and we play Beethoven and lots of classical music for him."
— Missy with reporting by Susan Yara