Julianna Margulies Dishes on the 'Mama Bus'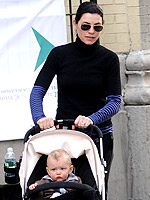 Splash News Online
Boys will be boys! During a recent visit to The Late Show with David Letterman, Julianna Margulies revealed that her son Kieran Lindsay is "very obsessed with buses" and generally "anything that goes." He also, of course, loves his mom — so imagine Kieran's delight when the two were recently combined!
Julianna explains that in the course of promoting her new series The Good Wife, CBS has taken out numerous bus advertisements … and the first glimpse of the ad left Kieran, 20 months this week, nearly speechless! "He went, 'Bus…Mama?' the actress recalls before adding,
"Now he's kind of used to it. Now it's like, 'Mama, bus. Mama, bus. Mama, bus.' My sister said, 'Do you think he thinks that every kid has a mama bus?' It's just normal."
What remains a mystery to Julianna and husband Keith Lieberthal, however, is their son's pseudo-German accent. "He's obsessed with bicycle helmets, which he calls hookahs," Julianna, 43, explains. "I don't know why…He'll be in the stroller [yelling] 'Mama, hookah! Hookah! Hookah!"
Quipping that the couple never employed a German nanny, Julianna conceded, "We don't know where the German came from."
The Good Wife premieres September 22nd at 10 p.m.
Source: The Late Show with David Letterman
— Missy