Caught Caring: (RED), Bugaboo and Kelly Rutherford
Gap went (RED). So did Starbucks. But for the first time ever, a brand has gone completely (RED) — and that brand is Bugaboo. Instead of designating a certain product or products (RED), the stroller maker-to-the-stars will be donating 1% of their total revenue to the Global Fund to help fund AIDS programs in Africa with an emphasis on the health of women and children. The contribution begins with all sales taking place after October 1.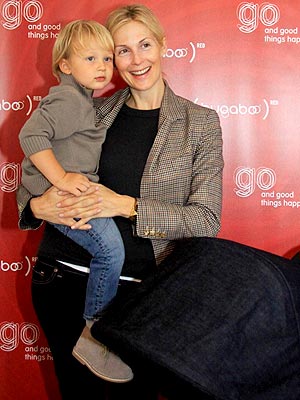 Courtesy Unlock PR
Moms who want to show their support more overtly may purchase a product from Bugaboo's new Special Collection, in stores on the first of October. Among the options are a new Bugaboo Chameleon stroller with dark denim fabric, black matte frame and a distinctive red hand brake handle ($1,029; available at multiple retailers), a TREASU(RED) Bugaboo Bee ($600; exclusively at Neiman Marcus), an ADO(RED) tailored fabric and accessories set ($165; exclusively at Giggle) as well as a white diaper bag available in leather ($230) and canvas ($130).
Gossip Girl star Kelly Rutherford and 2 ½-year-old Hermés Gustaf Daniel — himself a Bugaboo Frog devotee! — were on hand Saturday at the New York City launch party for the partnership, and both mother and son liked what they saw. "I am a big fan of my Bugaboo stroller for its beauty and function," Kelly raved, "and I am proud to be a part of the Bugaboo (RED) launch."
For Bugaboo, the decision to join forces with (RED) was easy. Madeleen Klassen, chief marketing officer for Bugaboo International, says that the Amsterdam-based company was eager to play an active role in the fight against HIV and AIDS in Africa; The mom-to-mom aspect of the contribution — with funds being directed towards those programs that will help reduce mother-to-child transmission of the disease — is something they hope will resonate with customers. "Now when you go with Bugaboo, you can make good things happen," Madeleen notes.
Click below to read about how many stroller sales it will take to possibly save a baby's life.
Created by Bono and Bobby Shriver, (RED) acts as a business model designed to raise awareness and money for the Global Fund by teaming up with brands like Bugaboo to produce (RED) branded products — and their efforts are paying off.  (RED) partners and events have raised more than $135 million so far, money which has generated the equivalent of a one-years' supply of life-saving antiretroviral medications for 825,000 people affected by HIV, provided 3.2 million AIDS orphans with basic care and support and has supported programs which have prevented more than 3.5 million deaths. What's more, every dollar raised by (RED) goes straight to Africa…and if you think that that dollar doesn't make a difference, think again.
Left alone, a pregnant woman has about a 30% chance of passing the HIV virus on to her unborn child; With Prevention of Mother to Child Transmission (PMTCT) treatment, however, those chances are lowered to as little as 2%. (RED) estimates that the total cost of PMTCT is under $30 for each pregnant woman and her child — a cost which factors in a one-time medication for mom and four weeks of medication for her newborn baby.
That means that for roughly every three or four Bugaboo strollers sold after October 1, the life of one newborn baby could potentially be saved. It's a thought that Bugaboo founders Max Barenbrug and Eduard Zanen found too good to pass up. "When Bugaboo launched, our aim was a simple one — to excite every person on the move," they note in a statement before adding,
"Through our shared vision and partnership with (RED), we are delighted to be able to help those affected by AIDS in Africa to go further in their lives."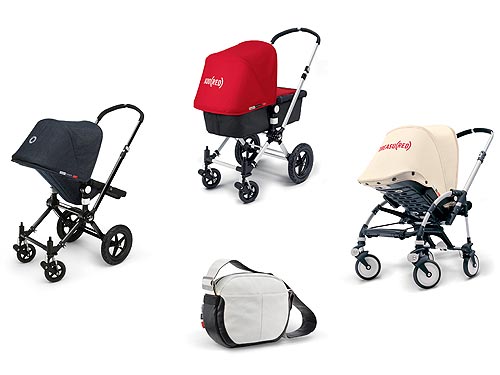 Courtesy Unlock PR
To view the Bugaboo(RED) Special Collection, click here. For more information on (RED) and The Global Fund, and to learn of other ways you can help, click here.
In addition to Hermés, Kelly is mom to 3-month-old Helena Grace with estranged husband Daniel Giersch.
— Missy